Top 5 design trends for your home in 2023
Are you thinking about starting a project or renovation and are looking for inspiration? Discover the best interior and exterior design trends for your home in 2023.
1. Energy-saving materials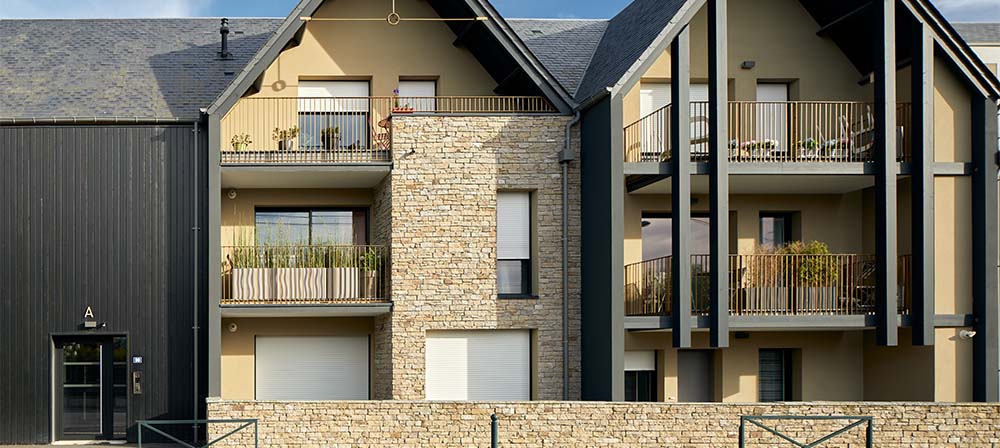 There is no doubt that our lives are influenced by the importance of energy saving. The changes we make will not only be a thing of the present. These improvements that we implement in regards to energy efficiency are here to stay and to help create a more sustainable future.
As you plan a new project or renovate your home, it's essential to consider materials that provide both durability and thermal insulation. Among the many options available, natural stone is considered one of the best choices. Thanks to its unique properties, such as exceptional thermal inertia and longevity, stone has become a go-to material for a wide range of applications and projects.
According to a study conducted in 2010 by PE International and Deutscher Naturwerkstein (DNV), the German natural stone association, natural stone facades have a significantly lower environmental impact than other materials like glass. The study found that the environmental impact of natural stone facades can be up to 175% lower than that of glass, making natural stone an environmentally friendly option for construction projects.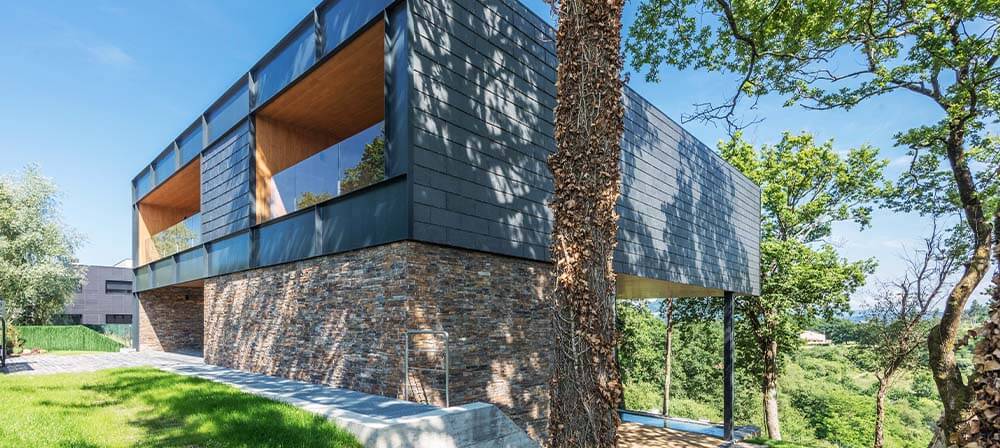 In addition, when it comes to promoting energy efficiency, External Thermal Insulation Systems (ETICS) are a crucial consideration. This approach involves affixing an insulating material to the exterior walls, which serves as a foundation for the facade cladding. By incorporating this method, buildings can better regulate their temperature and reduce energy consumption, making ETICS a popular choice for those seeking to improve the energy efficiency of their structures.
ETICS systems play a significant role in regulating indoor temperature by providing insulation against both cold temperatures in winter and excessive heat during summer. As a result, this approach can help reduce both energy costs and air conditioning expenses. Beyond its cost-saving benefits and improvement of indoor thermal comfort, ETICS can also offer additional building space. By installing ETICS on the exterior of a building, the different spaces within the building or house can maintain their usable surface area without increasing the size of interior walls.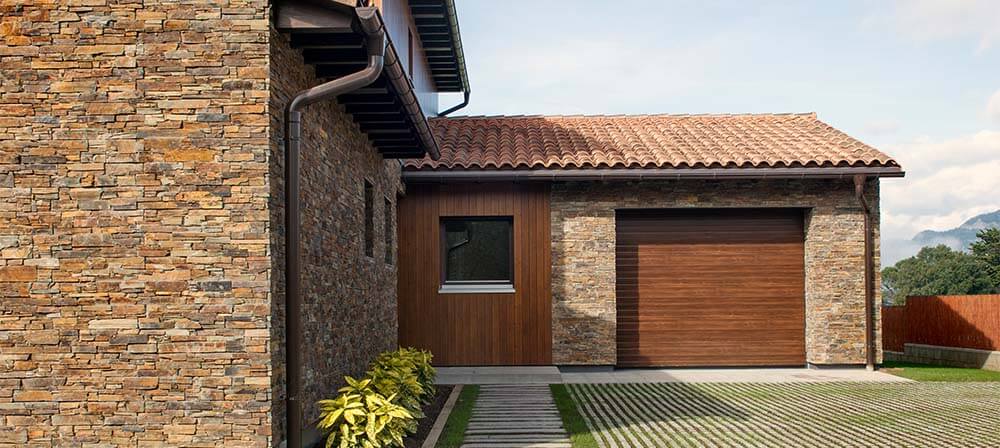 Numerous materials can be used as cladding on facades with ETICS, but the natural stone panels, Stonepanel™, are a standout option. These panels combine the thermal and technical benefits of natural stone with the convenience of a safe and efficient cladding.
Stonepanel™ are pre-assembled panels of natural stone on a cement mortar base with fiberglass and a mechanical anchor that ensures secure placement on exterior walls. This cladding system is certified for exterior installation by several European organizations, including the BBA in the UK, CSTB in France, and DIBT in Germany.
2. Nature at home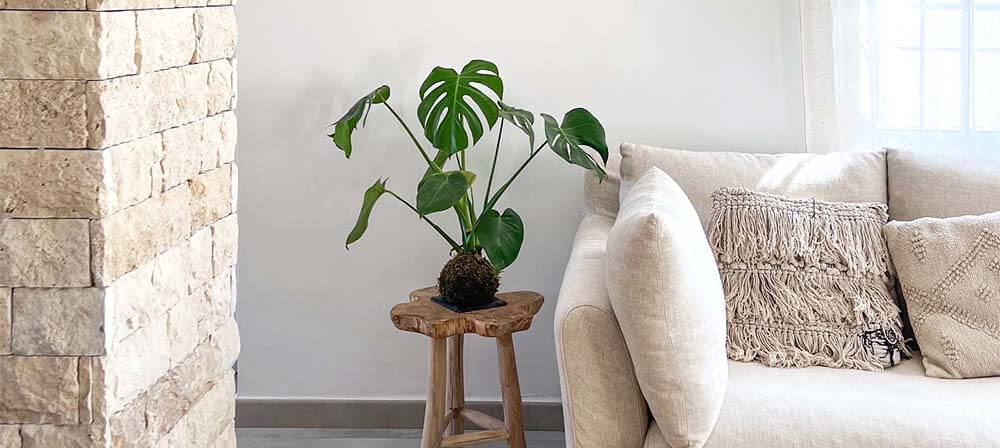 The present-day context, which urges us to pursue a greater sustainability and ecological protection, underscores the importance of our connection to nature. Whether through decor or the materials we select, individuals are seeking to establish a natural haven within their own homes.
Cottagecore and other similar trends surfaced prominently following the unprecedented events of 2020, and not only have they become a permanent fixture, but they are also growing in popularity with each passing year. This aesthetic, which, for some, evolves into a lifestyle, encompasses features that contribute to a more serene, sustainable, and straightforward way of life.
There is a growing trend of people abandoning urban living and opting to purchase homes in more peaceful locales. At the same time, apartments and houses in cosmopolitan areas are increasingly adorned with decor elements reminiscent of the rustic charm of rural cottages and farmhouses.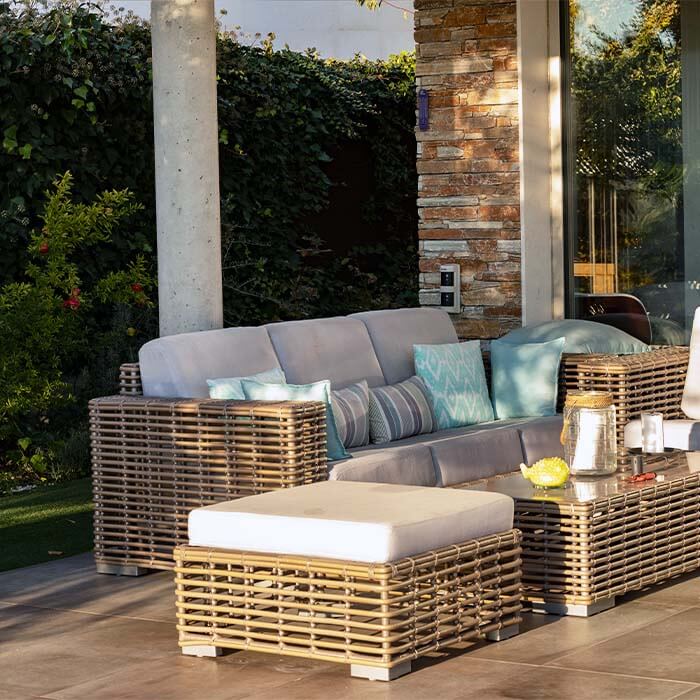 Exposed wooden beams, naturally textured stones, plants, and other decor elements that are typical of a rustic ambiance are prevalent in this trend. Its aim is not only to bring the essence of nature to your house but also to establish an atmosphere of calmness and romanticism through the use of sustainable and eco-friendly decorative elements.
The appreciation for nature has sparked a trend towards a specific color palette, with a growing preference for earth tones. Ranging from warm beiges to rich browns, this color scheme highlights the natural beauty of materials such as terracotta with its coppery hues and stones like travertine with its cream tones.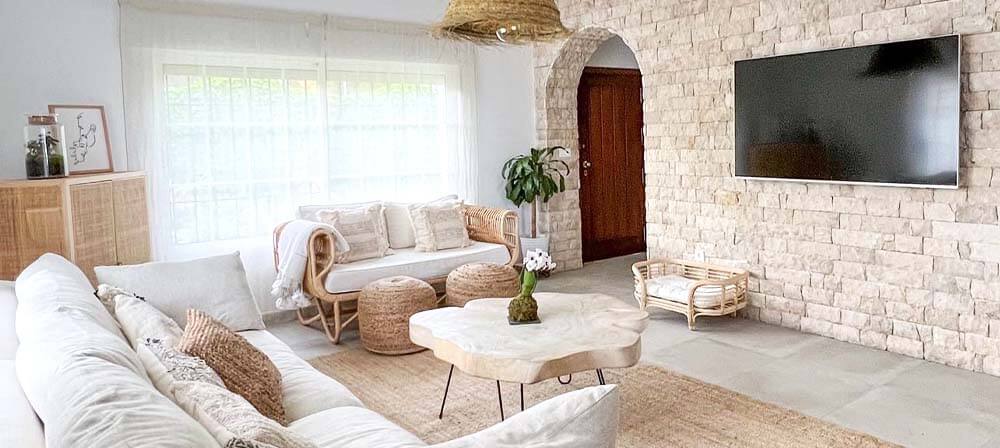 Azahara Luque, a content creator known for promoting a healthy and ecological lifestyle that emphasizes the use of sustainable materials, has incorporated natural elements into the design of her home. In the central part of her house, the living room-kitchen, textiles, furniture, exposed wooden beams, and natural stone are all present, creating a space that is both sustainable and aesthetically pleasing.
The use of Stonepanel™ Sabbia provides a natural stone texture to the walls, creating a peaceful atmosphere with rustic accents that are further highlighted by the beige tones of the stone panels and the overall room.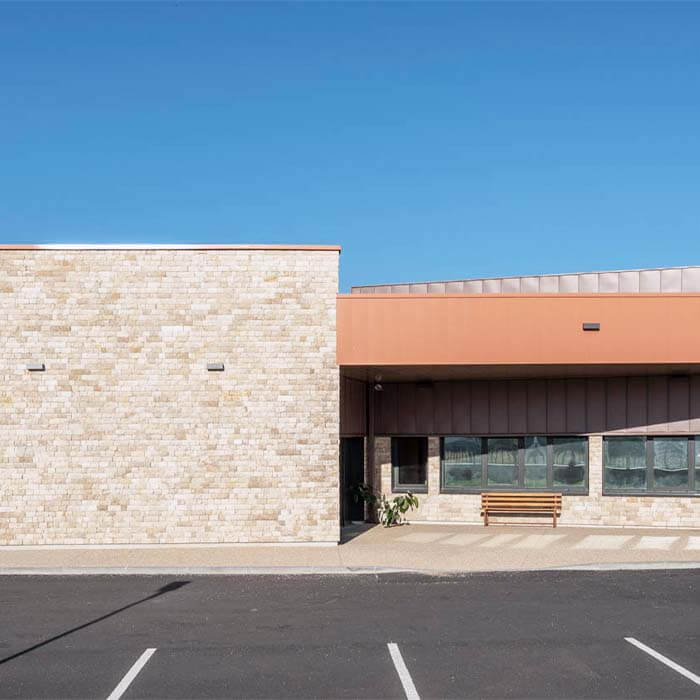 These natural stone panels are made of travertine, one of the most popular materials for wall and floor cladding this year.
3. Granite, the best material for your home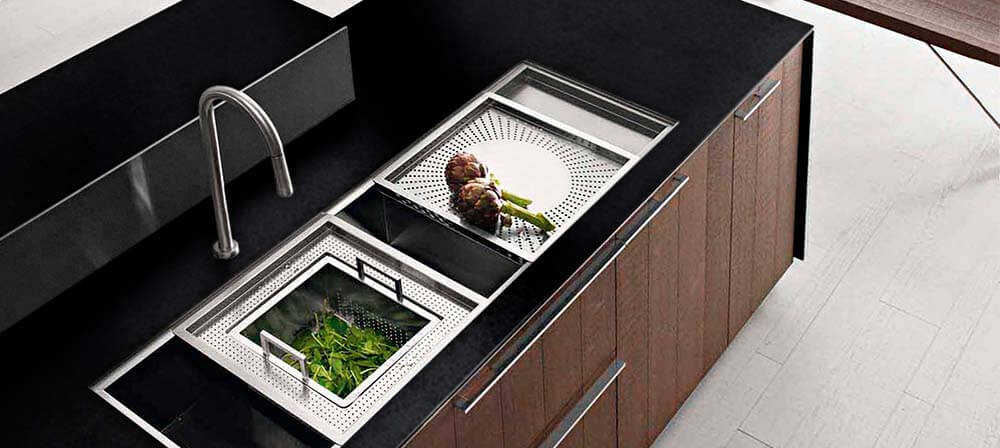 The way we coexist in our homes on a daily basis has shifted in recent years, and this shift is evident in the emerging trends in space distribution. Closed kitchens, where the person cooking is separated from the rest of the household, are no longer in vogue.
There is a growing emphasis on creating shared spaces where the kitchen and living room merge, with the kitchen assuming a central role in the entire household.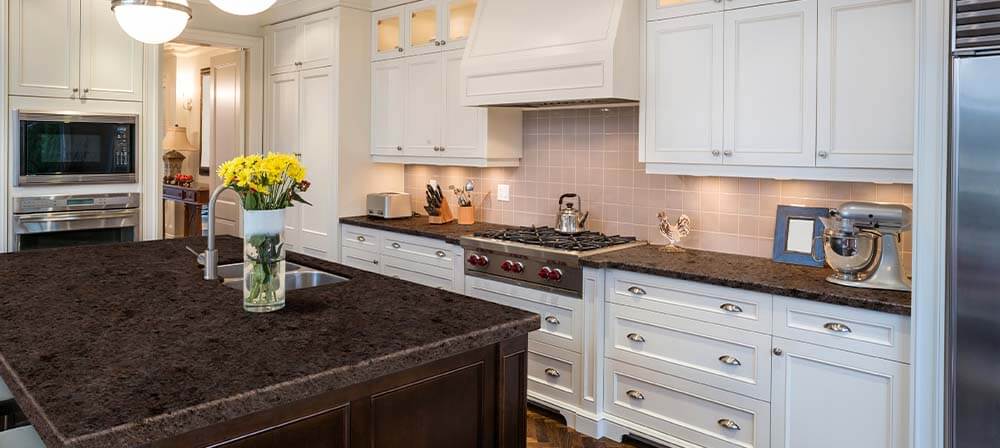 The countertop is a crucial element within the kitchen, whether it is located along the sides or as part of a kitchen island that visually separates the space. It is undeniably one of the busiest areas in the entire house.
Today's countertops serve multiple purposes beyond just providing a workspace; they also function as bars, where one can enjoy a drink, or as a surface where you can eat, largely due to the increasing popularity of kitchen islands that provide more space.
This area, which usually includes a cooking area and sink, is used continuously for tasks such as cutting, organizing, and cooking. Therefore, the material used to cover the countertop must possess certain properties such as durability, scratch resistance, and the ability to withstand sudden changes in temperature, among others, to ensure it can handle daily use.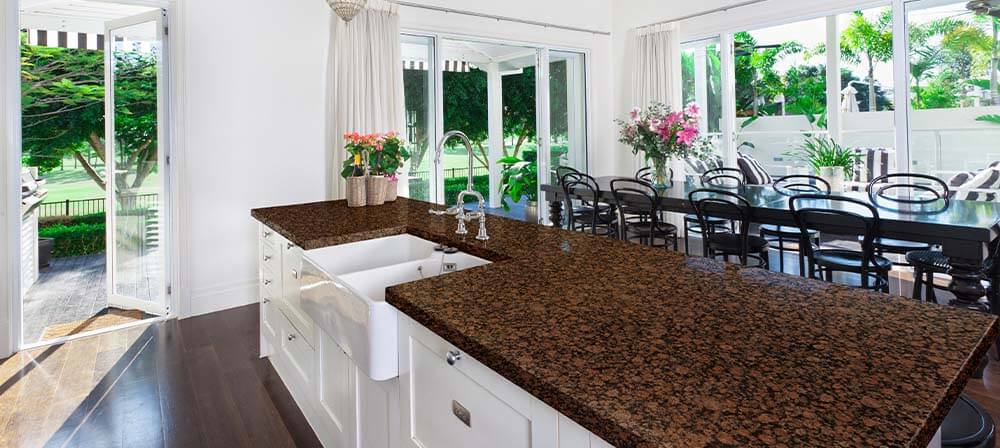 Undoubtedly, granite is the prime material that satisfies these demands. Its exceptional hardness and heat resistance render it one of the top choices for kitchen surfaces. Not only that, granite is also commonly used as a floor and wall covering, given its ability to withstand the test of time and constant use.
A vast array of granite options is available in terms of colours, finishes, and types. You can explore our extensive collection of granite and learn more about this material here.
4. The natural beauty of black slate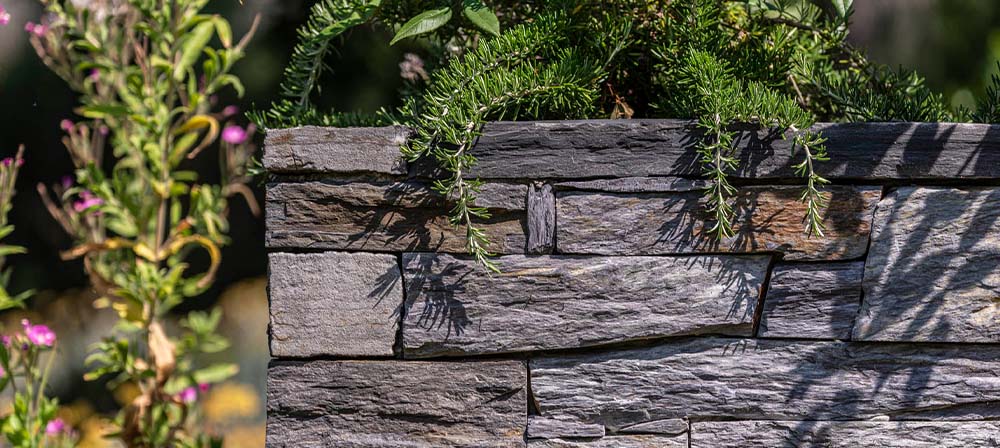 Black slate is a natural stone that has been used for centuries in a wide variety of construction applications. Its dark, elegant appearance has made it a popular choice for flooring, countertops, roofs, and wall cladding, among other things.
This material is known for its durability, slip resistance, and low maintenance, making it an ideal material for outdoor applications such as garden paths and walls. Additionally, black slate is eco-friendly and versatile, with various shapes and sizes available to suit a wide range of design preferences. Its unique beauty and practical qualities have made black slate a highly sought-after material for both residential and commercial use.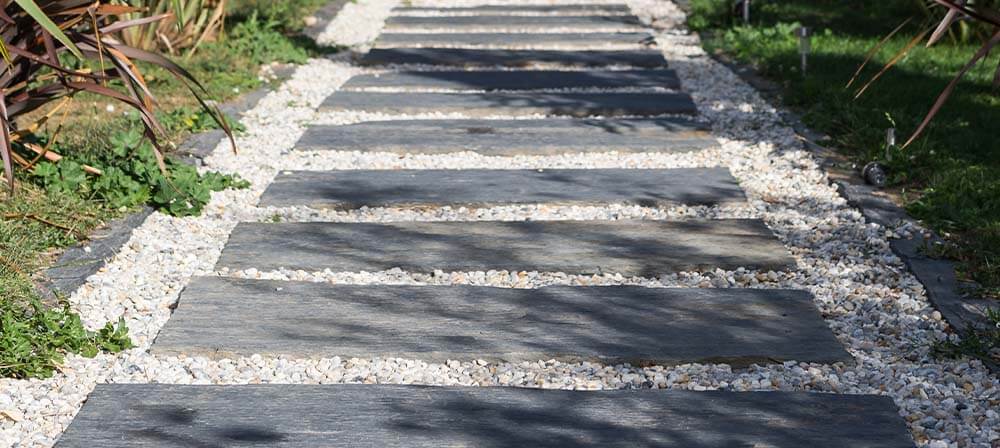 Black slate is renowned for its durability. This natural stone is incredibly tough and can withstand the test of time even when exposed to harsh weather conditions and heavy foot traffic.
Furthermore, black slate is slip-resistant due to its natural texture, providing a safe surface for walking even when it's wet. This quality makes it an ideal material for areas that are prone to getting wet, such as garden paths, pool areas, and outdoor staircases. The combination of its durability and slip resistance ensures that black slate remains one of the best choices for those looking for a long-lasting and safe solution for their outdoor design needs.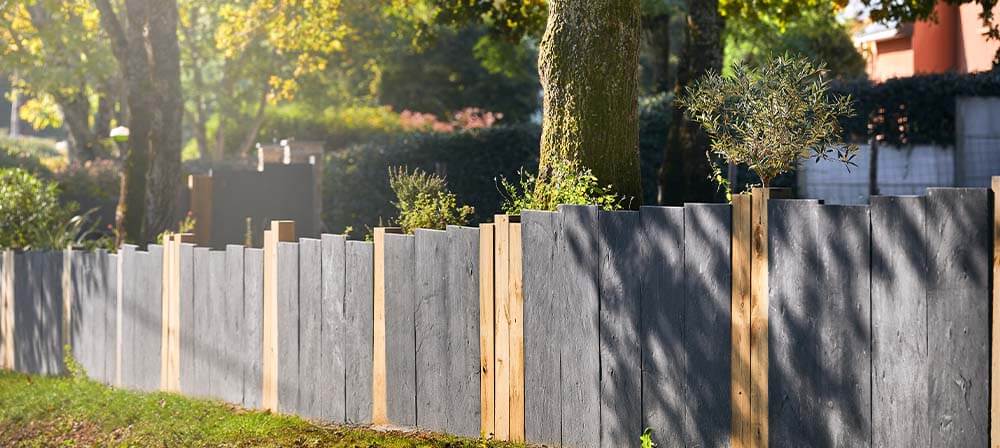 Slate is a popular choice for homeowners who are looking for a low-maintenance option for their homes. This type of natural stone is highly durable and can withstand harsh weather conditions. Unlike other materials, slate requires very little upkeep, as it is resistant to stains, scratches, and chips.
Additionally, the unique texture and color of black slate give it a distinct aesthetic appeal that can enhance the visual appeal of any home. Its dark and grey tones and natural textures can complement a range of architectural styles, from traditional to modern. Overall, slate offers both practical benefits and a beautiful appearance that makes it a valuable investment for any home.
Check our our exclusive materials, directly from our own quarries, Fuji and Infercoa.
5. The advantages of renovating instead of building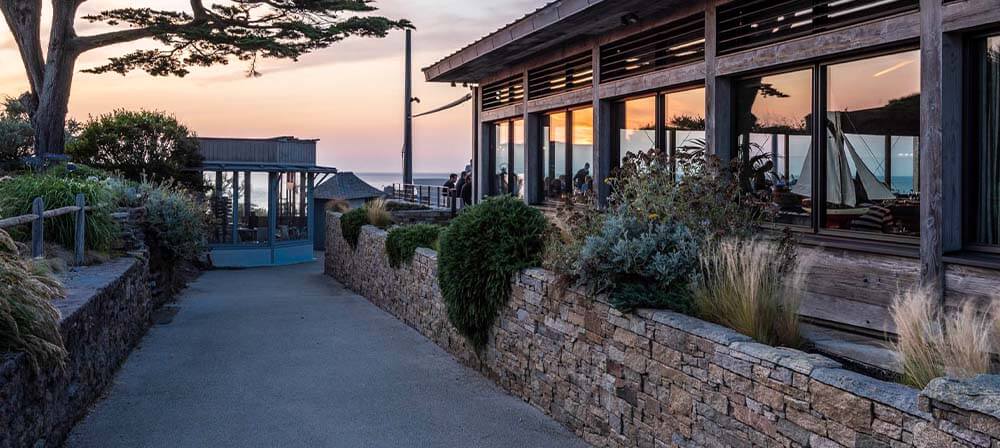 As environmental awareness grows, it is crucial to take into account several factors before determining whether building a new house or renovating an old one is the better option.
In 2021, the Royal Institute of British Architects recommended prioritizing building and house renovations over demolition and subsequent new construction. This recommendation takes into account the significant waste generated by demolitions, as well as the fact that new constructions account for 40% of carbon emissions in the UK.
Nevertheless, there are numerous other considerations that influence the decision-making process, which can lead us to choose between building a new home or carrying out a renovation. When making this determination, factors such as how old the house is, expenses, energy efficiency, and other related elements must be considered.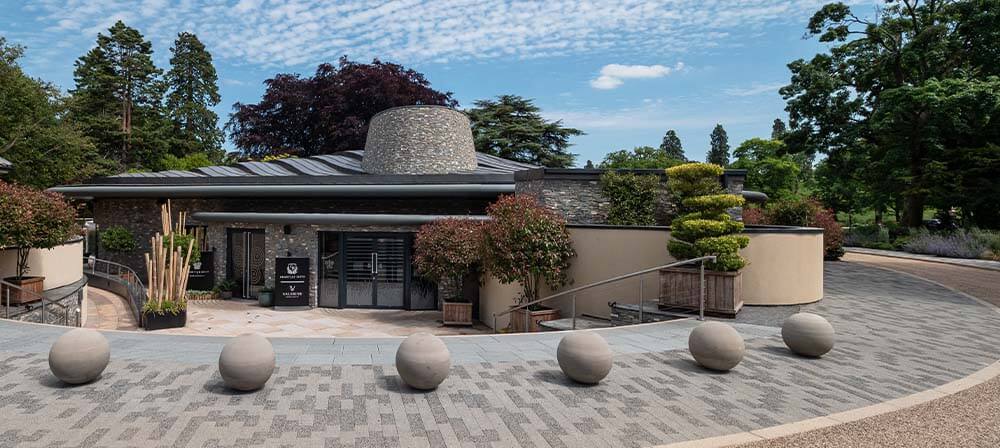 As previously mentioned, there are newly constructed buildings that excel in terms of sustainability, such as the Grantley Hall Garden Pavilion, considered a carbon neutral project. This is a prime example of an efficient new building, with features like a heat recovery system, a ultra-eficient plant room, an efficient energy system and high-performance fenestration.
Nonetheless, there is an evident trend towards renovations, encompassing everything from furniture restoration to house and room makeovers. Within this trend, we can observe cases like Villa Felicidad, from Spanish content creator Azahara Luque.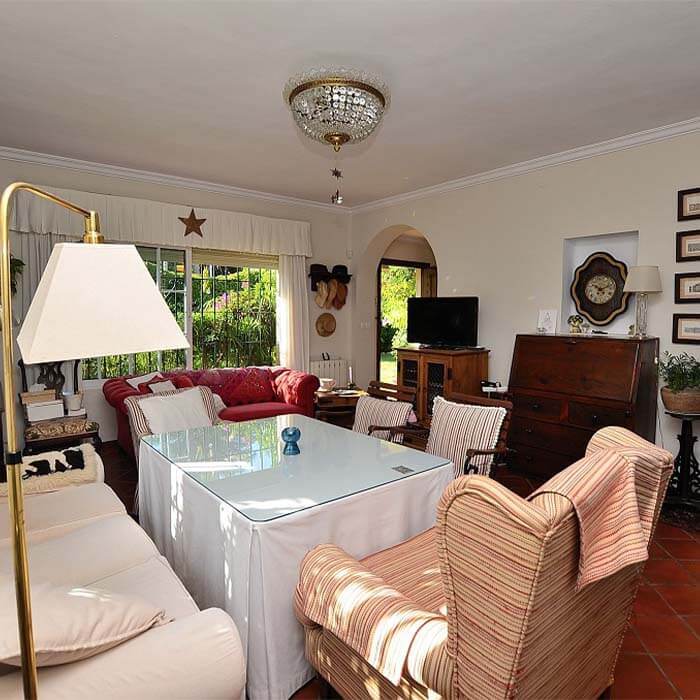 Villa Felicidad, designed by Azahara Luque, is an exceptional renovation project that has prioritized the use of sustainable, natural, and long-lasting materials, including the a granite countertop or the use of Stonepanel™ Sabbia as a wall cladding in her living room.
To sum up, we hope this list of trends has inspired you to explore the beauty and versatility of natural stone. Our extensive catalogue features an impressive selection of premium-quality materials that are perfect for a wide range of interior and exterior design projects.
If you have any questions or need further assistance, you can contact our team of experts here. We are always happy to help you choose the perfect natural stone products for your home.