GRANTLEY HALL GARDEN PAVILION
Natural stone for a magnificent garden

Location
/ United Kingdom

Year
/ 2021

Product
/ Stonepanel™ Nordic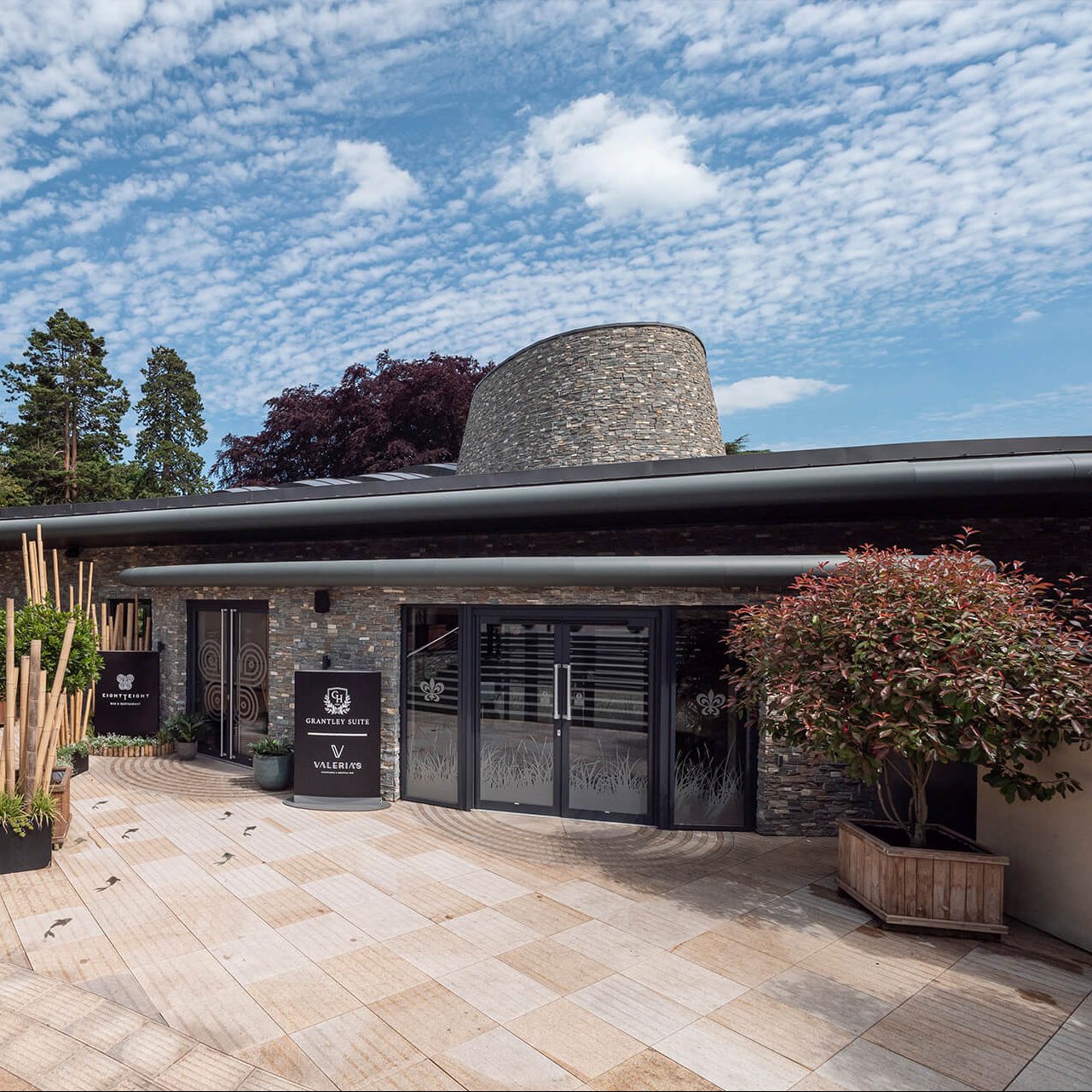 An historic place that oozes character and quality
Successfully transforming a historic building
About 5 miles to the west of Ripon, on the banks of the river Skell, a mid-18th country house rises as a bastion of historical moments. Grantly Hall has survived three noble families and its generations, it walls has listened to the stories of II World War veterans, since it was a convalescent home for almost 30 years and was used as an adult education residential college, a training and conference centre and today it looks back to this storis as a 50-bedroom hotel.
It features a garden built in 1910 that has been restored becoming one of the most important of its type in the country. Nestled within 40 acres of endlessly beautiful, landscaped grounds we can found a tranquil Japanese Garden, with a stream bisecting a man-made ravine amidst maple trees, ferns, and bamboo. The Grantley Hall's Garden Pavilion it's designed to sit perfectly along this natural setting with a rotund structure and an eye-catching roof.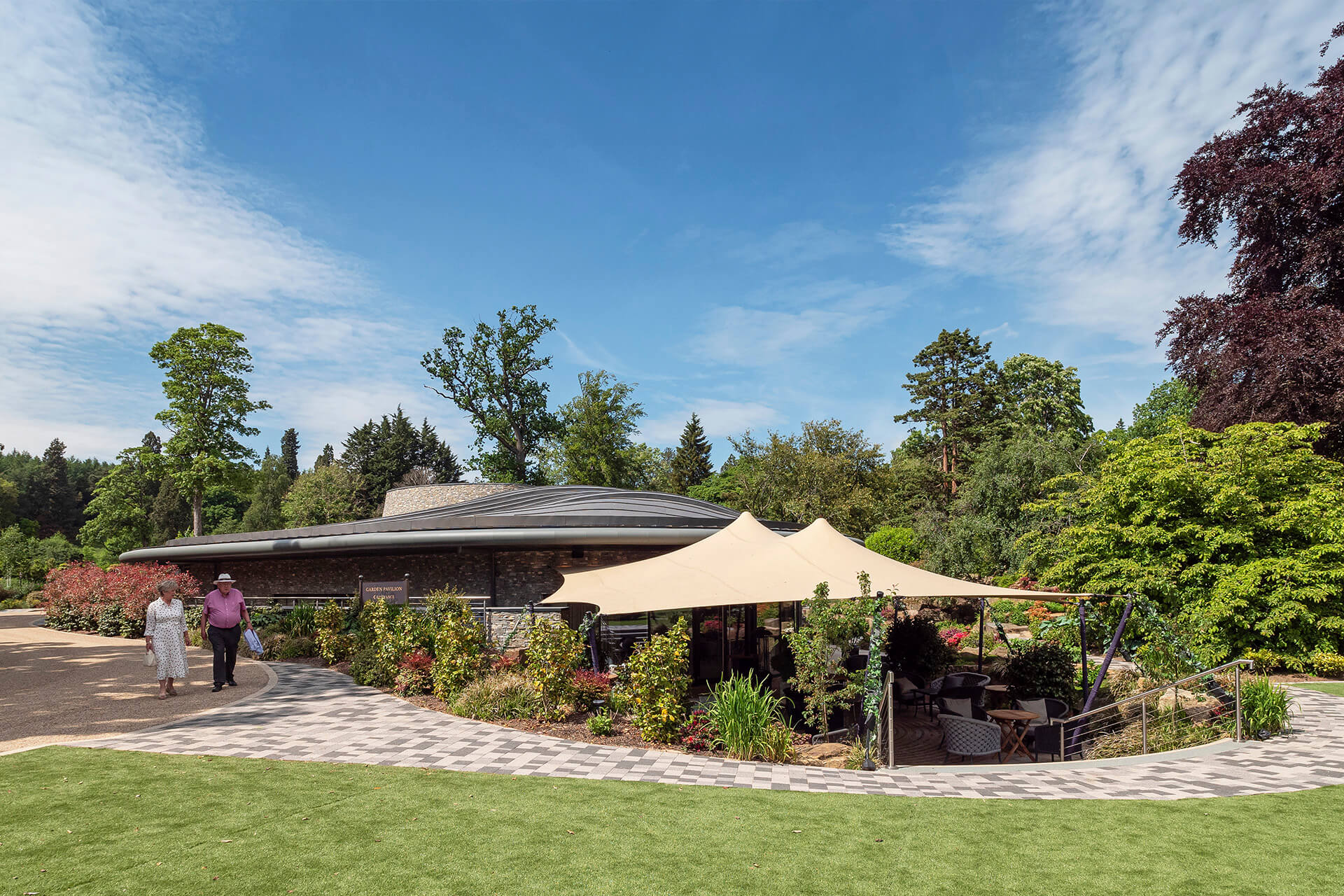 A carbon neutral project
The new subterranean Garden Pavilion, clad in STONEPANELTM stone cladding, supplied by our exclusive distributors in the UK, Taylor Maxwell, was integrated within the listed English heritage Japanese garden after experiencing a four-year restoration and modernisation plan of the entire building. The architects' unique design incorporated a funnel structure on the top of the roof that has a tight curved radius to mirror the Garden Pavilion's round form.
The STONEPANELTM NORDIC specified for this project provided a contemporary look to the pavilion, whilst meeting the requirements set out during the planning stage. Installed by stone cladding experts, the range of curved stone units sit flush against the facades distinctive shape, creating a uniform exterior sight across the Pavilion. The overall scheme achieved a carbon neutral status thanks to the installation of a ground source heat recovery system, an ultra-efficient plant room, high-performance fenestration and has an efficient energy system.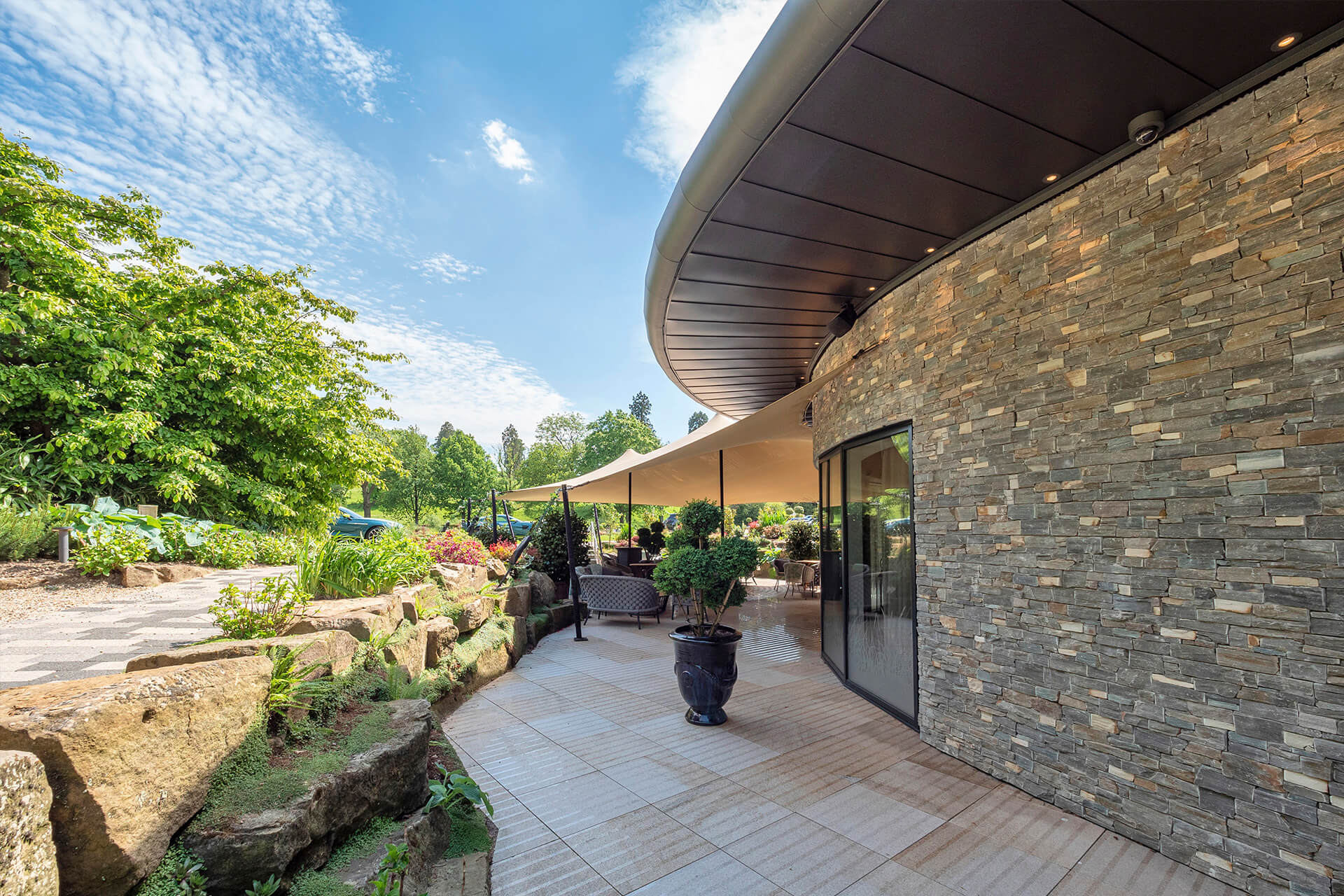 STONEPANEL brings quality and safety
STONEPANELTM is a natural stone wall cladding solution certified throughout Europe, each panel is composed of pieces of natural stone mounted on a cement mortar base and reinforced with fiberglass mesh to avoid the risk of detachment. The base measures just 3 cm (1.18 in), allowing for the easy mounting of slabs and rustic or antiqued blocks. The S-shape of the panels enhances the aesthetics of the project.
Its anchoring system has been certified by several official European institutions: the BBA in United Kingdom, the CSTB in France and the DIBT in Germany. In addition, it has passed different internal tests regarding its durability and resistance to frost.