"A Casiña" by Espacio Concept with Stonepanel Sabbia
In the heart of the Rías Baixas, there is a family home that has witnessed centuries of history. Registered in the land registry in 2009, rumors among the neighbors say that this cozy house is built on the foundations of an old fisherman's dwelling, adding a dimension of charm and mystery to its past. With its gabled roof and charming front porch, this house, renovated by Espacio Concept, reflects the charm of days long past.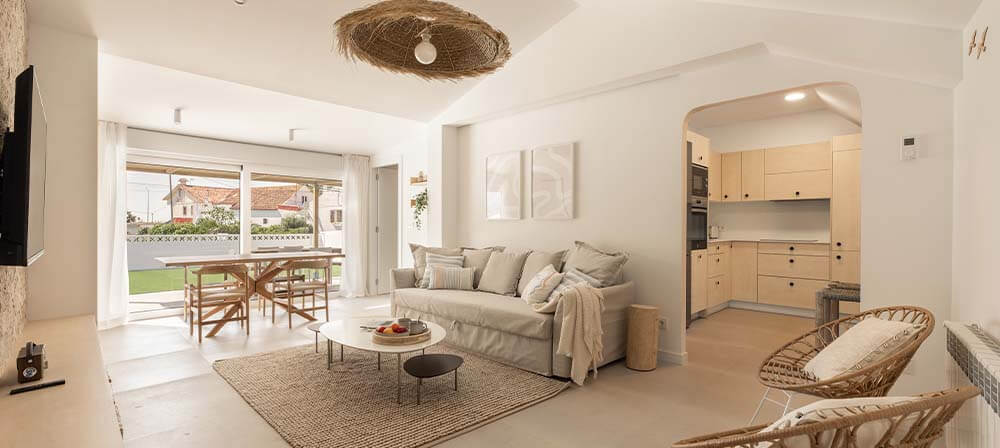 Fate had an exciting opportunity in store for this house with a rich history. Interior designer Clara dos Santos and her studio, Espacio Concept, embarked on a thrilling challenge: transforming this house into a cozy summer cottage, perfect for escaping the hustle and bustle of the city.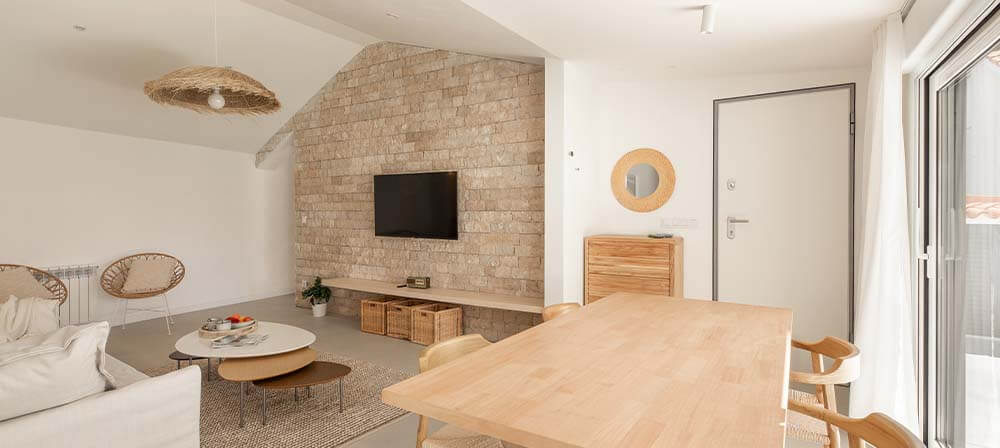 With 75m² of space, the Espacio Concept team had a blank canvas to create a harmonious and functional layout. The goal was clear: to adapt the spaces to include two bedrooms with their respective bathrooms, a spacious living-dining room, a functional kitchen, and a small open hall to welcome guests with a warm greeting.
But the transformation was not limited to the house alone. The 190 m² plot was also renovated. The access ramp was modified to accommodate up to two vehicles, and most of the estate was covered with artificial grass, creating a perfect green oasis for relaxing outdoor moments. A charming perimeter planter and a barbecue added the finishing touch to this wonderful setting.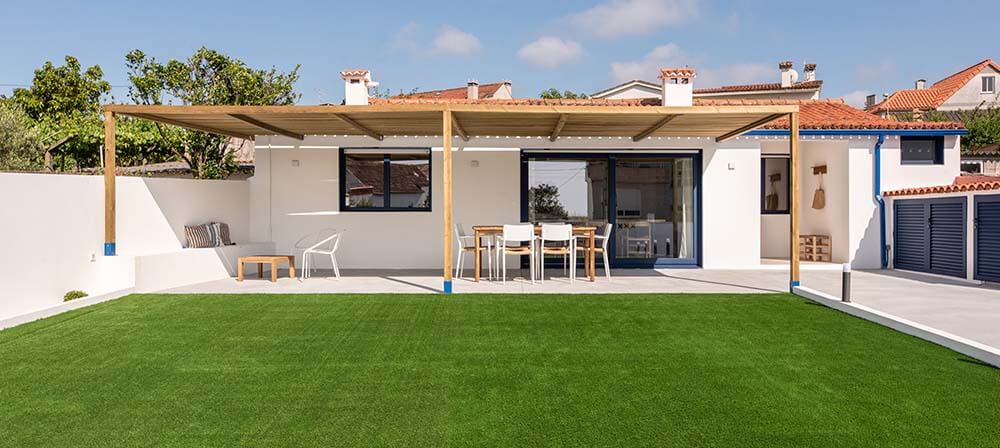 The charm and functionality did not stop at the exterior; the Espacio Concept team worked their magic inside the house. Every detail was carefully selected to convey a subtle nautical style, evoking the spirit of the sea. Touches of blue on the windows added a refreshing and welcoming air, while wood, natural fibers, and light tones predominated in the decor, creating a relaxing and cozy atmosphere.
The crowning touch for this project was the choice of pre-assembled natural stone panels, Stonepanel®, on the living room wall. Specifically, the Stonepanel® Sabbia, which is made of travertine pieces mounted on a base of cement mortar and fiberglass.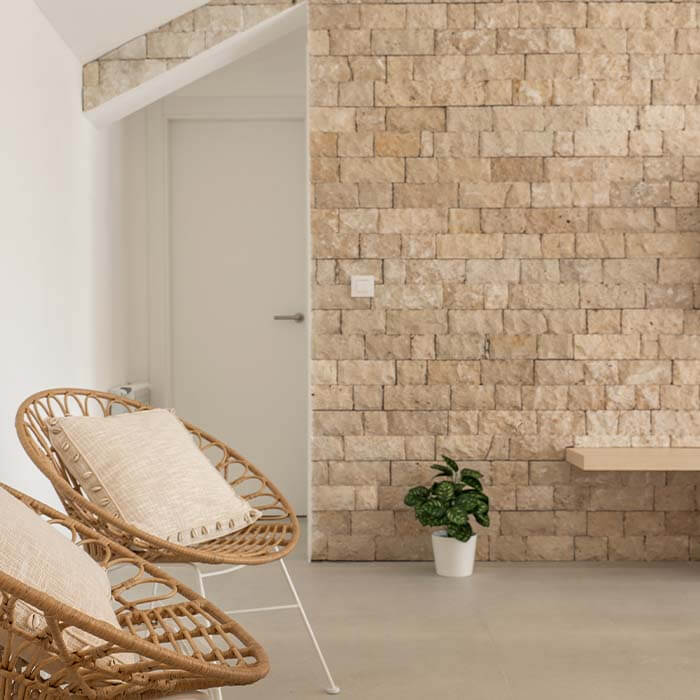 Travertine, a timeless stone known for its beauty and warmth, became the element that linked past and present, adding a touch of elegance and sophistication to this unique space.
The kitchen, the heart of any home, becomes a focal point of beauty and functionality in the "Casiña" project. A fundamental part of this transformation is the Sapienstone countertop, a choice that not only provides exceptional aesthetic value but also incomparable technical quality.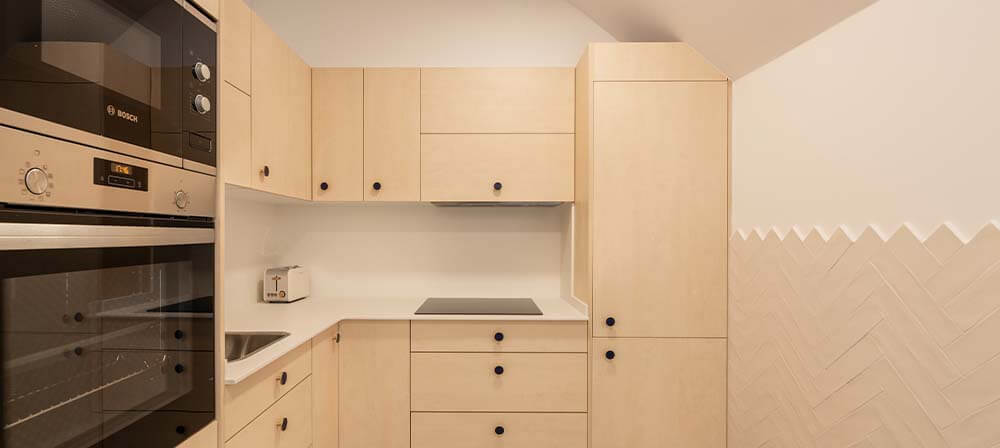 The use of the Sapienstone countertop, with its resistance, durability, and antibacterial properties, highlights Espacio Concept's dedication to creating spaces that combine history and modernity in perfect harmony. This countertop is not only a practical element in the kitchen but also a work of art that unites functionality and style in this beautiful project.
The "Casiña" project represents not only a physical transformation of a house but also the preservation and reinvention of its rich history. Clara dos Santos demonstrated her ability to rescue and adapt spaces with a unique approach, creating a warm and functional atmosphere where history and modernity coexist in perfect harmony.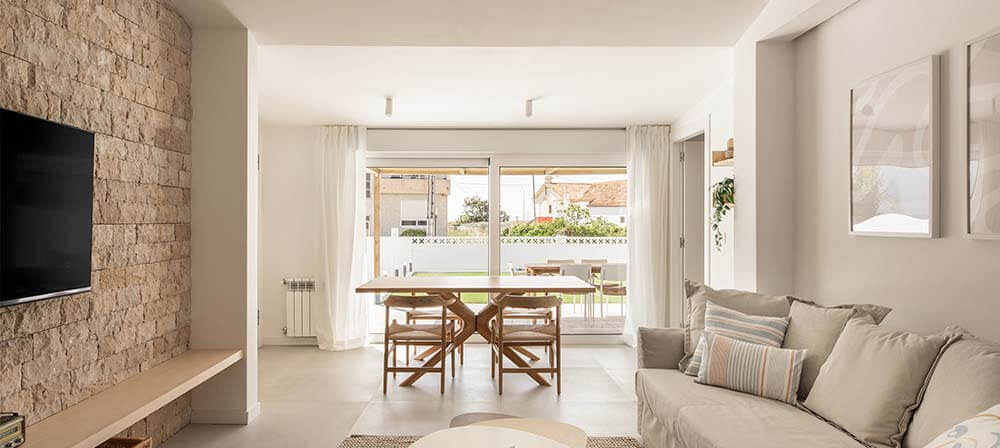 In conclusion, "A Casiña" is an inspiring example of how the magic of interior design can transform a humble dwelling into an inspiring home with soul and personality. The combination of history, nautical style, and modern elements makes this summer cottage a magical place to escape and enjoy unforgettable moments. A project that reminds us of the transformative power of design and the passion of Clara dos Santos and Espacio Concept for creating functional and optimized spaces, adapted to their clients.