Open space designed by Clara Dos Santos
Space and natural light

Location
/ Spain

Year
/ 2022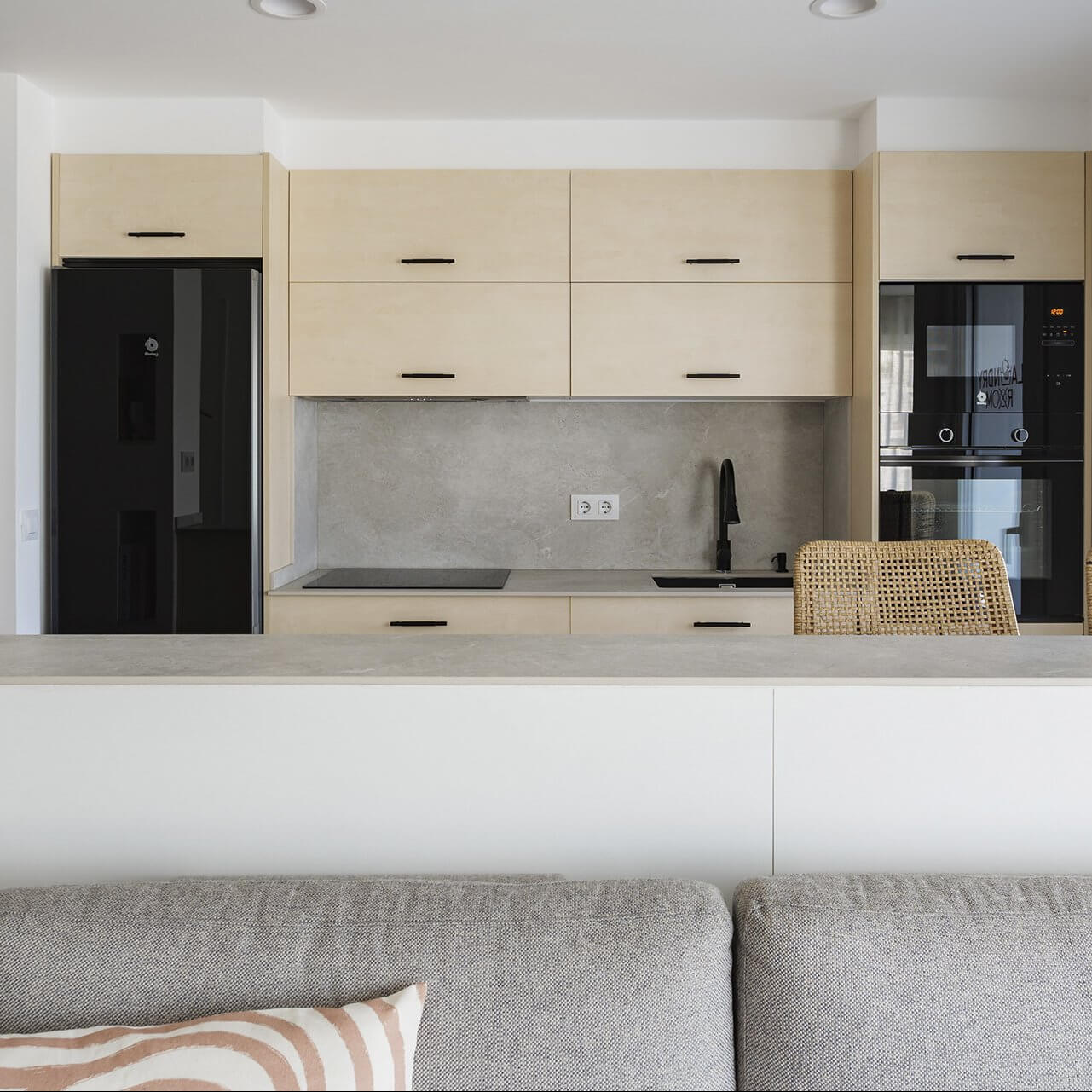 Harmonious kitchen with Platinum White
Pure spaciousness
The idea of this project, catering to the client's needs, was to eliminate the partition separating the kitchen from the living room and replace it with a half-height piece of furniture serving as a bar. This connection merges a creative space like the kitchen with a communal space like the living room, blending them into a bright and spacious environment that maximizes natural light and imparts a sense of freedom.
This communication between spaces is one of the most crucial elements when designing a kitchen, and finding that connection isn't always easy. However, Platinum White by Sapienstone, distributed in Spain by CUPA STONE, becomes the core of this innovative concept, providing not only aesthetic value but also technical properties of resistance, durability, and resilience against microorganisms.
Creativity and coexistence
Two concepts united into one, that's the proposal of Espacio Concept and Clara dos Santos, an industrial design engineer with over 10 years of experience in the construction materials sector. The founder of this studio, driven by her passion for interior design since childhood and with a strong calling for this art, finds in interior design a way to connect with her clients.
Factors like ergonomics, traffic flow, or furniture placement are determined by the habits and customs of the home's inhabitants. And that's the first approach Clara brings to the table. A rigorous task where the goal is to empathize with the client and understand their concept of home, bringing the expertise of a professional to create a tailored residence with a unique touch that strikes the balance between creativity and functionality.
The concept driven by passion
This kitchen with the Platinum White material from Sapienstone is the outcome of that connection between the interior designer and the client. The pursuit of a harmonious and functional design where elements like lighting and material selection take on significant importance in creating a balanced and sustainable space. This last feature, sustainability, is growing in importance as it becomes just as crucial for any client as durability or functionality.
At the end of the day, the transformation of this kitchen into an open space, the ambiance imposed by Platinum White on the environment, and Clara's unique design are simply the result of a passion for well-executed work. The small details give her away, and her experience and expertise shine through. The connection that CUPA STONE has established with interior design and its Kitchen collection in recent years sets a new paradigm in the world of kitchen design and interior decoration. The evidence lies in the result.