A Vacation Home Renovation with Stonepanel
Renovation and transformation for a summer cottage

Location
/ Spain

Year
/ 2023

Product
/ Stonepanel™ Sabbia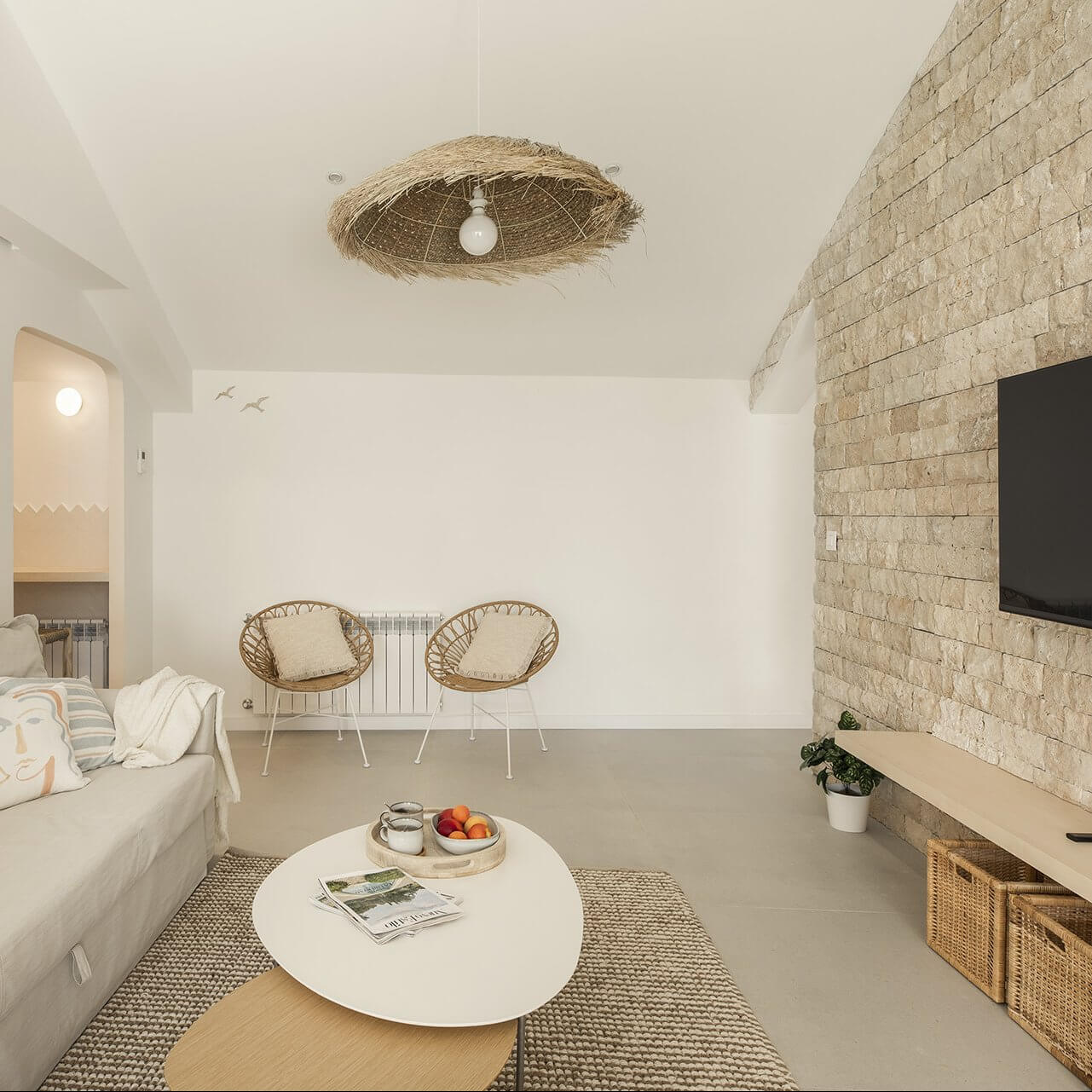 Functional interior design to withstand the test of time
Discovering the Origins
At the heart of this family vacation home in Nigrán (Spain) lies a history that goes deeper than we might know. Registered in the land registry in 2009, local residents claim it stands on the foundations of an old fisherman's dwelling. Originally, it was a modest, two-pitched roof house consisting of a single bedroom, a living room, kitchen, and bathroom, with a front porch. In a later renovation, a gallery was added, completely changing its appearance.
Clara dos Santos, the designer behind this renovation, has created a wonderful space that not only harmonizes for living but also adapts to the passage of time. For these 75 square meters, a palette of light tones was used to create a sense of spaciousness while remaining versatile to accommodate a wide range of tastes and styles.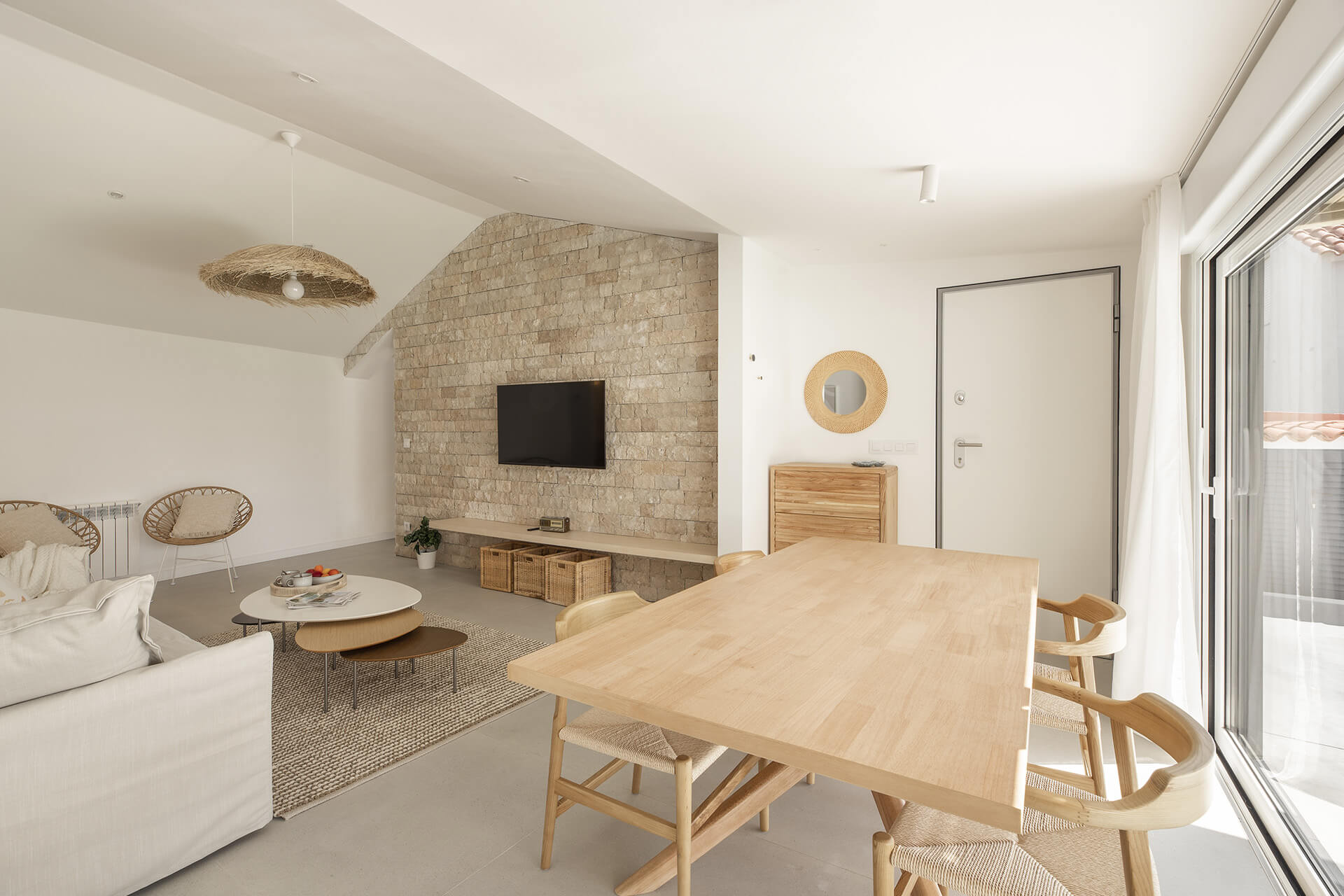 Renovating the Family Space
The Stonepanel Sabbia, a product by CUPA STONE, played a crucial role in the success of this renovation in the Rías Baixas region. The work carried out by Espacio Concept transformed this house into a cozy summer retreat. The travertine of the Stonepanel gives the house a warm feeling while providing it with a unique and sophisticated look. The stone serves as a bridge that connects the past with the present of the dwelling, further enhancing its allure.
This renovation involved a complete facelift for the home through a complete reconfiguration of its layout. The result: two full bedrooms, each with its private bathroom, a spacious living-dining room, a modern kitchen, and a small open hall that welcomes you.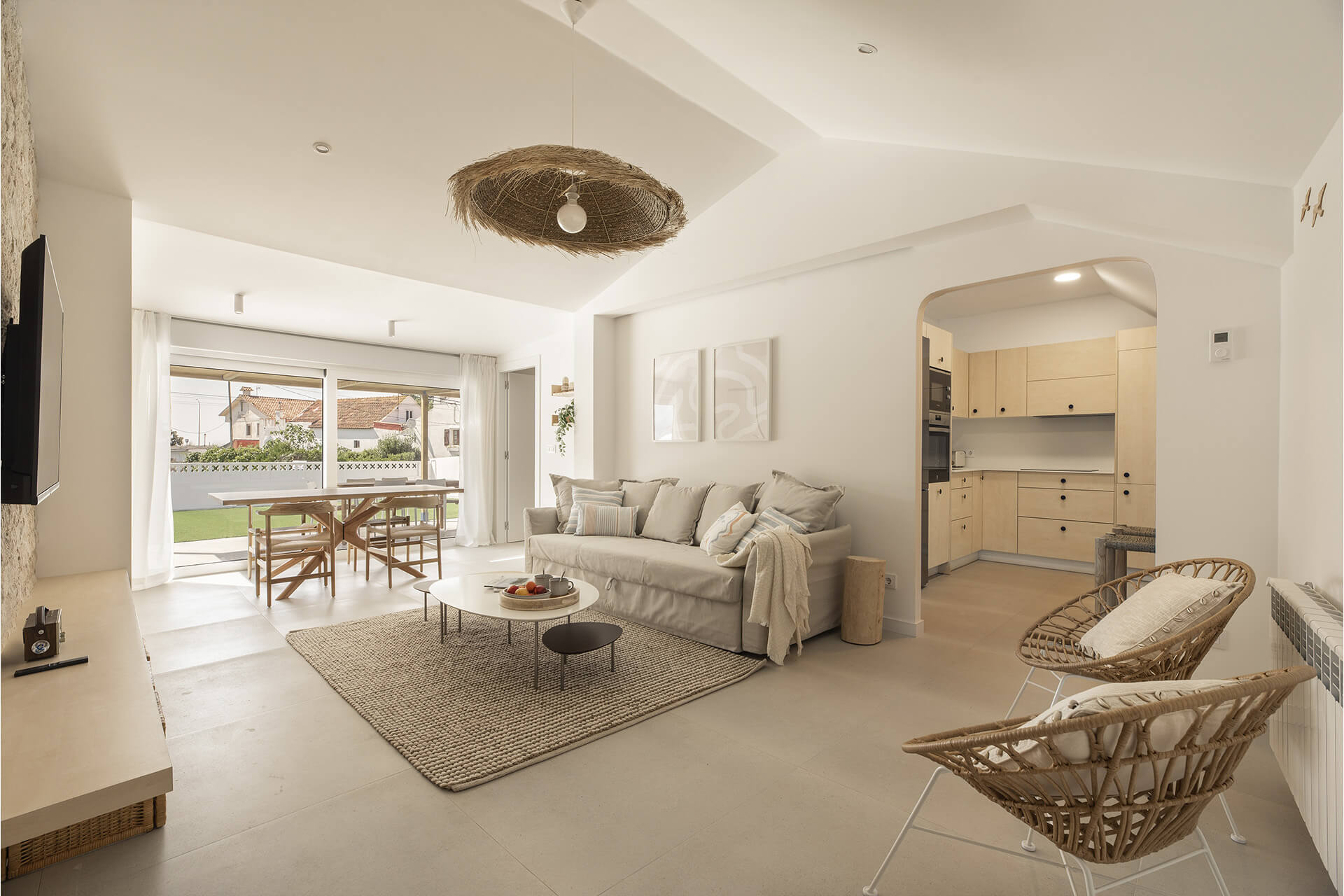 Details that Make a Difference
The transformation extended beyond the interior of the house. The 190 square meters of surrounding land also underwent a renewal process. The access ramp was redesigned to accommodate up to two vehicles, while most of the plot was covered with artificial turf for easy maintenance. A perimeter planter and a barbecue added the finishing touches to the outdoor area. On the front facade of the house, a natural wood pergola with slats was installed to provide shade and create a lovely terrace with direct access from the living-dining room. Espacio Concept took on the task of furnishing and decorating the house entirely, aiming for a subtle maritime style, with a predominance of wood, natural materials, and soft tones, evoking Balearic architecture.
The crowning touch of this transformation was the incorporation of STONEPANEL SABBIA, natural stone, on the living room wall, choosing travertine to add a deep sense of warmth that endures over time.
Interior designer
/ ESPACIO CONCEPT INTERIORISMO S.L.
© Photographs
/ MON OSAKA