Modern housing development in Brno clad in natural stone CUPA STONE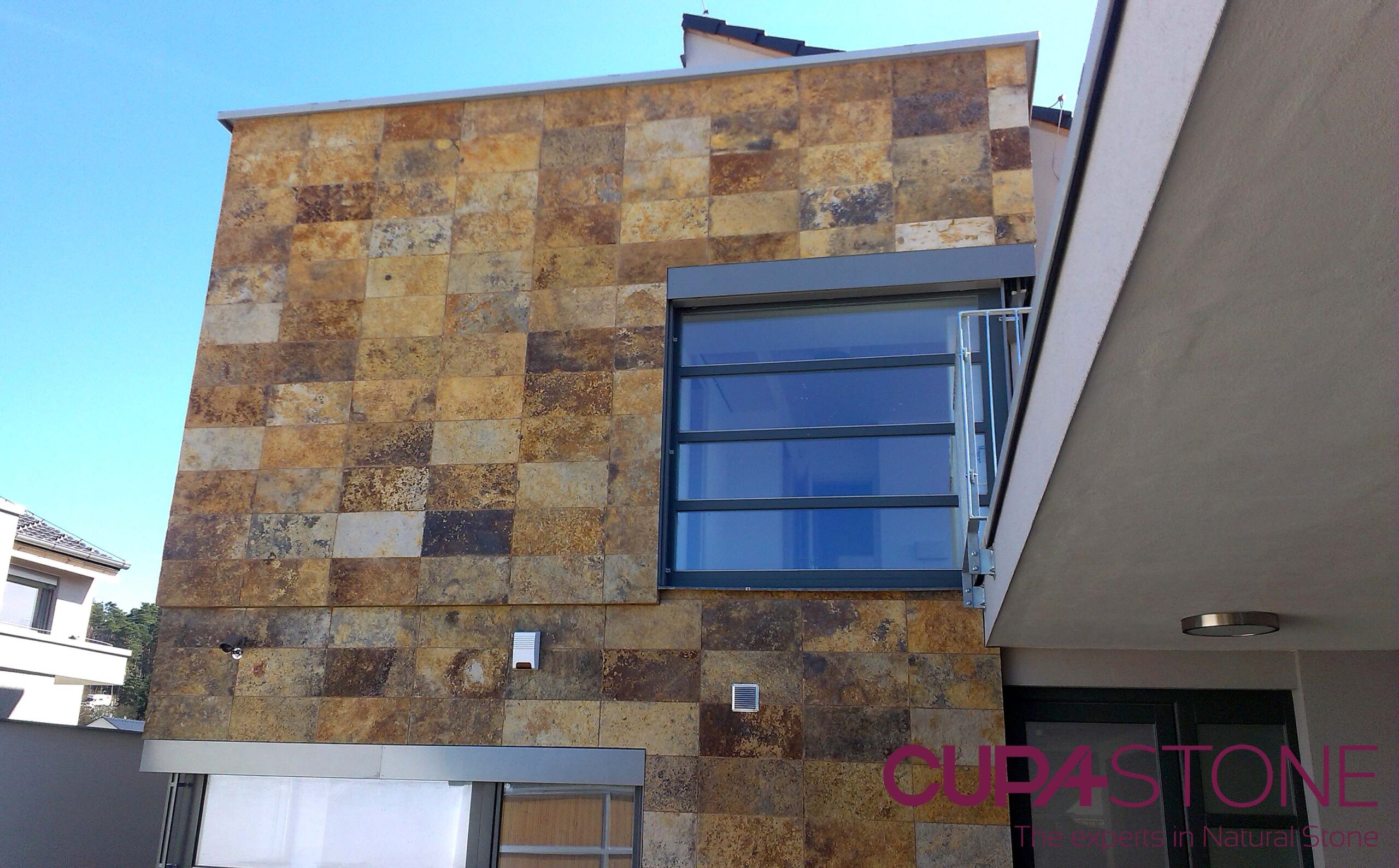 In a small village near Brno, a modern and elegant housing development has opted for natural stone CUPA STONE to improve the exterior wall and façade cladding. Natural materials such as STONEPANEL™, natural stone panel guaranteed and certified for outdoor use and Carioca Bronze Quartzite CUPA STONE offer a natural touch of aesthetic value and high quality to these single-family homes located in Czech Republic.
The Czech company Motec has built this housing complex, located at the top of the town, with beautiful views to an historic village with a 17th century church. The development comprises 5 two-storey detached homes with a small garden in front of the street and a courtyard garden at the back of the houses. Each dwelling is separated from its neighbor by a fence for both visual and acoustic privacy, approximately 1.8m high and each house has its own private view of the landscape.
NATURAL STONE PANELS STONEPANEL™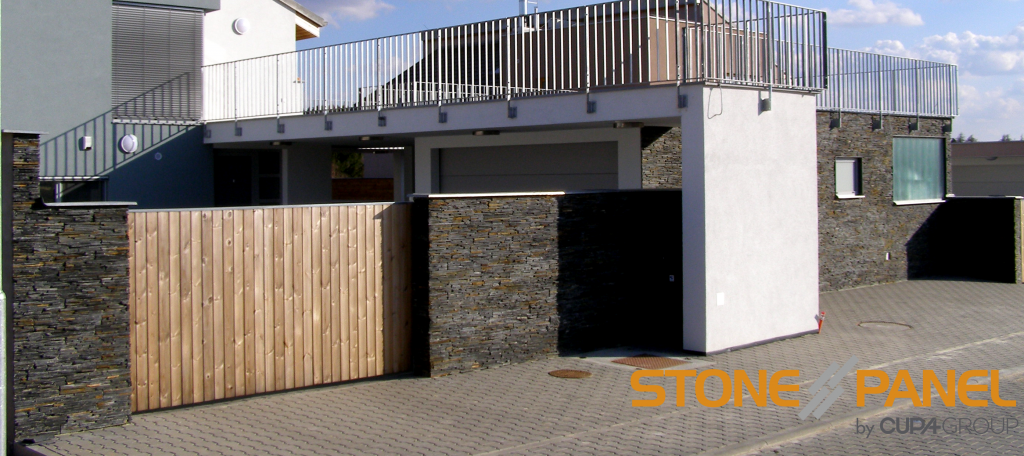 These exterior walls are clad in natural stone panels STONEPANEL™, harmonizing the appearance of the development. Each fence looks different because they have chosen various types of STONEPANEL™ such as STONEPANEL™ BLACK SLATE, STONEPANEL™ MULTICOLOR,  STONEPANEL™ NORDIC or STONEPANEL™ NIL.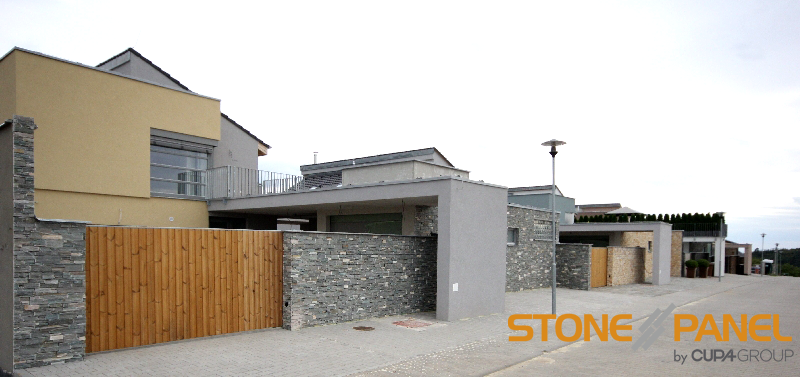 Created and patented by CUPA GROUP, STONEPANEL™ is an innovative system that can be used for exterior and interior natural stone wall cladding application. Each panel is composed by natural stone pieces mounted on a cement base and reinforced with lightweight glass fiber. Moreover, the patented anchor system enables the installation of natural stone panel on surfaces higher than two meters.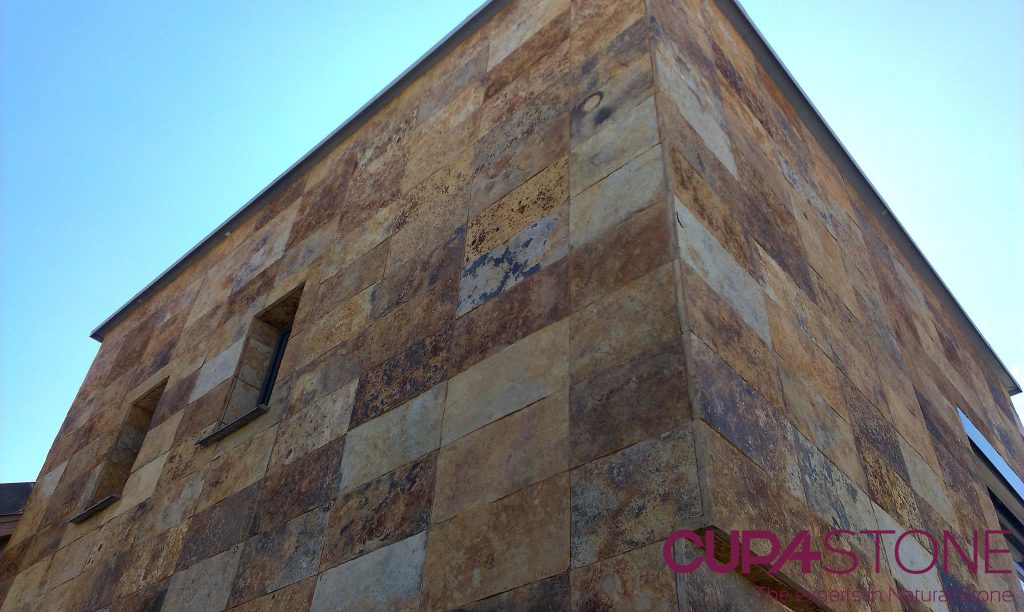 The houses have in common the same architectural design, with a contemporary and avant-garde façades clad in CARIOCA BRONZE QUARTZITE, installed on the main entrance and the left side of the houses. About 100 square meters of this bronze stone with ocher shades and a very rough natural texture, remains fixed on the facade thanks to 4 mechanical anchors. This safer installation ensures adherence without risk of detachment. A high quality natural stone with durable and aesthetic properties.
Due to the environmental conditions in this region, temperatures range between 25 and 35 degrees Celsius during the summer and between 0 and 15 degrees Celsius during the winter. This is the main reason why they decided to install an insulation of extruded polystyrene.
For further information, download STONEPANEL™ catalog and CUPA STONE Natural Tiles.