Black kitchen ideas with natural stone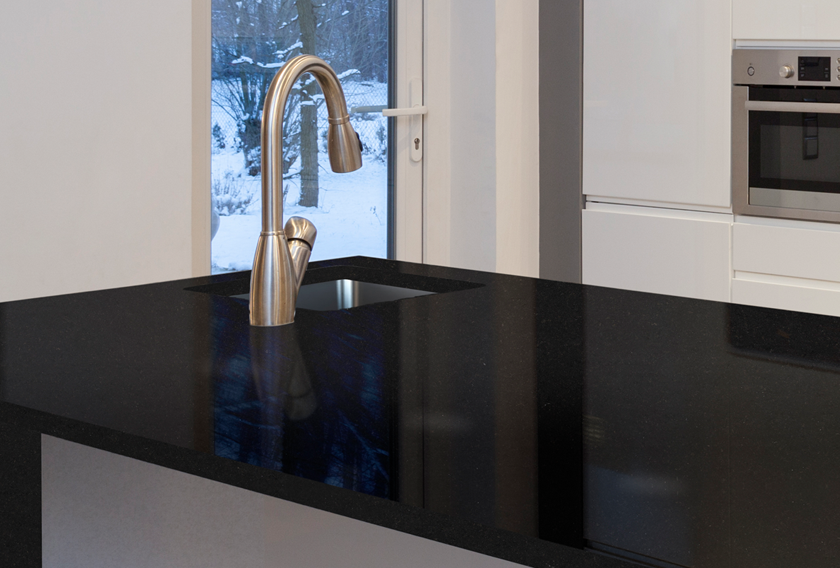 Black kitchens are one of the most popular interior design trends. Dark colors give a sense of continuity and spaciousness, particularly when they are used to cover an island counter or countertop. Black natural stone brings a feeling of elegance and a sophisticated contrast to flooring or wall cladding. Check out some ideas to inspire your black kitchen design!
BLACK NATURAL STONE: STYLISH AND AUTHENTIC
Granites are tough, heat resistant, eco-friendly and easy to clean and maintain. Black granites are synonymous with an elegant style: authentic, personal and sustainable. Black colour emphasizes your countertop, in order to focus attention on the kitchen. Some finishes such as honed, aged, polished or leather can completely transform the appearance of your kitchen.
WHITE WALLS OR WOOD, THE OTHER COMBINATIONS
Dark stone countertops can be combined with different tones and materials. For example, you can use white walls and floors, providing a perfect balance between the elegance offered by black and the brightness provided by clear colors.
The combination of a black natural stone and wood is one of the most beautiful decisions. It will bring character and style to your interior design. A black worktop and some wooden furniture will increase the feeling of warmth in your kitchen.
3 EXAMPLES OF BLACK GRANITES FOR YOUR KITCHEN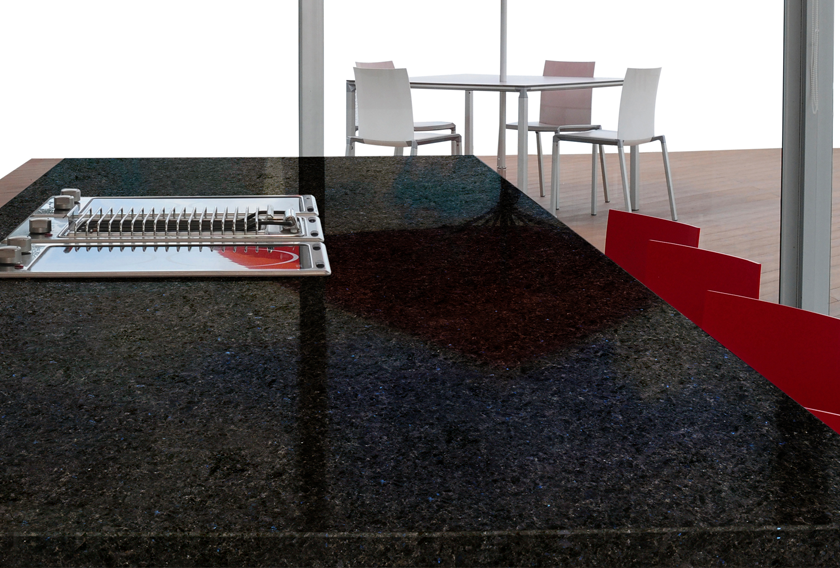 Here you have 3 examples of black granites that will fit in well with your kitchen design:
1.DAKAR BLACK: also known as Angola Black, it is a black colored medium-grained granite with a crystallyne appearance. Its distinguishing shiny dark labradorites, makes it a unique granite. The leather finish gives the granite a sophisticated appearance.
2. ZIMBABWE BLACK: deep black colored fine-grained granite. Zimbabwe Black has bright shines due to its quartz minerals, provinding a vivid luminosity to its surface. Elegant and sophisticated spots may be created with this stone.
3. IMPALA BLACK: dark grey colored medium-grained granite. Compact stone that exhibits what is called and "irregular" fracture. Its quartz transparent crytals gives the granite lightness and brilliance.
Would you use black countertops in your kitchen? Or do you prefer black and white kitchens?
For further information, check CUPA STONE Granite Collection.