World Green Building Trends 2016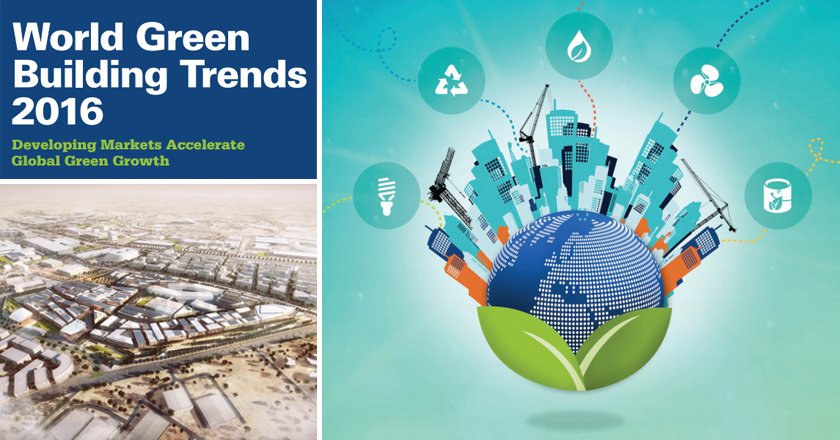 The World Green Building Trends 2016 study anticipates green buildings to double by 2018. According to this report, the percentage of firms expecting to have more than 60% of their projets certified green is anticipated to nearly double from 17% currently to 33% within two years.
The research, conducted by Dodge Data & Analytics (formerly McGraw Hill Construction), analyse the growth of green with over 1,000 building professionals (architects, contractors, engineers, consultants and building owners) across 69 countries around the world. The anticipated growth is largely driven by countries that still have developing green markets such in Africa, Asia and South America. For example, around 60% of respondents from Colombia, India and Mexico report that expect to be doing green commercial building in the next three years.
SOCIAL AND ENVIRONMENTAL BENEFITS

In six countries —Brazil, Mexico, Singapore, South Africa, UK and US— over 40% of participants expect to conduct green retrofits in existing buildings. Three quarters (75%) of respondents are tracking metrics on the benefits of their green buildings.
But what are the social and environmental reasons for building green? Encouraging sustainable business practices is the top social reason for building green, driven largely by the US, the UK or China, suggesting its importance across very different markets. Other social reasons for green building is the ability of sustainable construction to support the domestic economy in some countries such as Australia, Saudi Arabia, Singapore and India. Water and material resource conservation are cited as important in every region.
TOP OBSTACLES FOR GREEN BUILDING
Client demand also takes a significant leap in 2015 as one of the top future green activity, from 35% to 40%. Recognition by owners of the benefits of green is very important to sustaining green market growth globally. This could reflect a growing trend toward a more mature understanding of sustainability; that is, sustainability and green must take into consideration not only environmental aspects, but also social and economic ones as well.
Higher first costs, lack of public awareness, lack of political support and perception that green is for high-end projects only are top obstacles in many developing green markets. In summary, this study demonstrates that green building continues to influence construction in both developed and developing economies.
The full results of this research appear in the World Green Building Trends 2016: Developing Markets Accelerate Global Green Growth, part of the continuing Dodge Data & Analytics SmartMarket Report series.
You can download the report here.