Natural stone panels STONEPANEL™ fit perfectly in the Woodlands Country Club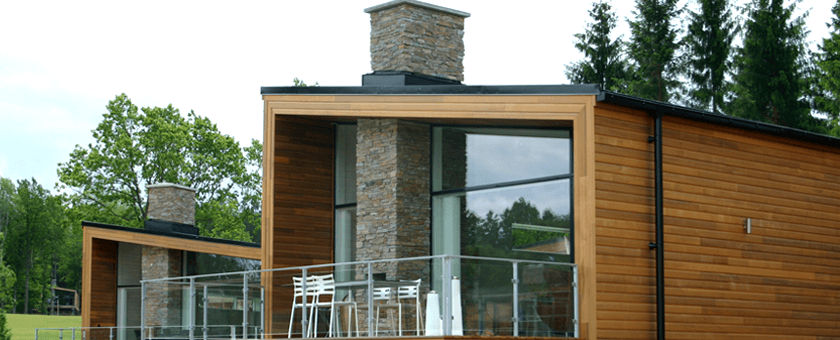 Natural stone panels STONEPANEL™ Sahara were the perfect choice of Henning Larsen Architects for the Woodlands Country Club, a professional golf academy and a modern club house in Örkeljunga (Helsingborg, Sweden).
The project, completed in 2008, included 59 wood-clad houses integrated into the surrounding landscape. The cottages at the Woodlands Country Club feature large chimneys clad in STONEPANEL™ Sahara, a multicolor quartzite with brown and grey tones that transmits great warmth and strength to the housing development. STONEPANEL™ provides timeless and elegant chimney coatings, creating original compositions. Furthermore, our natural stone panels offer resistance to high temperatures.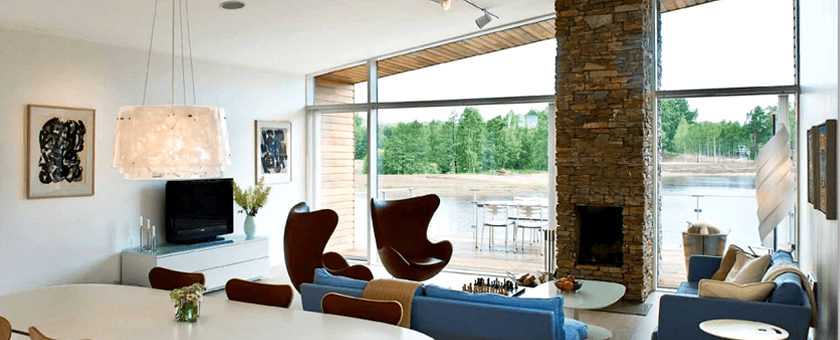 Our natural stone panels fit perfectly in the simplicity, minimalism and functionality of Scandinavian design. STONEPANEL™ is a unique system created and patented by CUPASTONE, the natural stone experts. Used for any type of exterior or interior natural stone cladding, STONEPANEL™ is the safest and most efficient system. Each stone panel is Z-shaped to avoid visible joins and can be installed up to 10 times faster than traditional masonry. This project used STONEPANEL™, that incorporates a hook in the back of each panel to remove height restrictions without risk.
A GREAT SELECTION OF NATURAL MATERIALS
Woodlands Golf & Country Club is placed in a hilly Swedish forest landscape with many lakes only 20 minutes by car from Helsingborg and 60 minutes from Copenhagen. The houses are built on pillars in order to create a sensation floating on the landscape, with large terraces. In the gated area of the club, there are stylish houses designed exclusively for Woodlands.
Moreover, the houses have been arranged in order to create the most peaceful and private surroundings for each house. All the cottages have large windows and an optimal ventilation, thanks to a great selection of natural materials such as natural stone panels STONEPANEL™.
For more information, you can check CUPA STONE website.
Have a look at Woodlands Country Club page.