STONEPANEL™ provides the luxury Cliff House Hotel with a distinguishing nature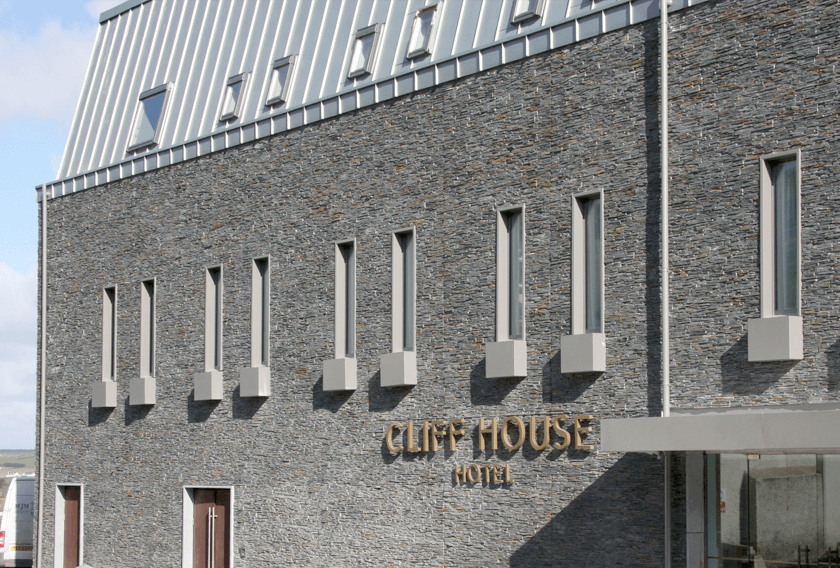 Regarded as one of the finest small luxury five-star hotels in Ireland with stunning views overlooking Ardmore Bay, the Cliff House Hotel has made use of STONEPANEL™ in order to provide the building with a distinguishing nature. The innovative stone cladding system is simpler, cleaner and safer than traditional masonry.
STONEPANEL™ JET DARK THIN SET is a black slate, with dark blue and gold tones. The pre-mounted stone panels, awarded in United Kingdom (BBA), have been used in the exterior facade and some interior walls. A contemporary and elegant design in a beautiful natural setting and sea view rooms. The hotel is built with steel, glass and stone, that match the architecture on Ardmore Peninsula.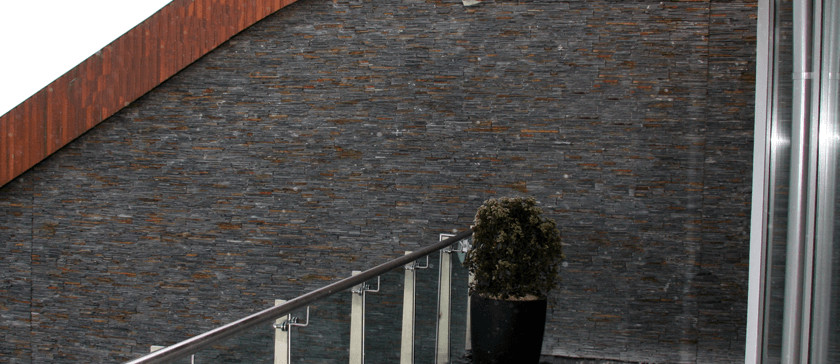 The dark tones of STONEPANEL™ which forms its facade seems as if stacked from the earth. From the seaside, the hotel seems to cascade down the slope, the glass window reflecting sky and sea. The use of stone on the facades and grass on the roof add to the sense of integration.
Our patented natural stone panels were used for cladding the exterior facade. These panels are recommended for installation on surfaces higher than two meters. This model features a stainless steel attachment loop, which ensures the most secure attachment of the STONEPANEL™ on a vertical face.
NATURAL STONE, SUITED TO THE BUILDING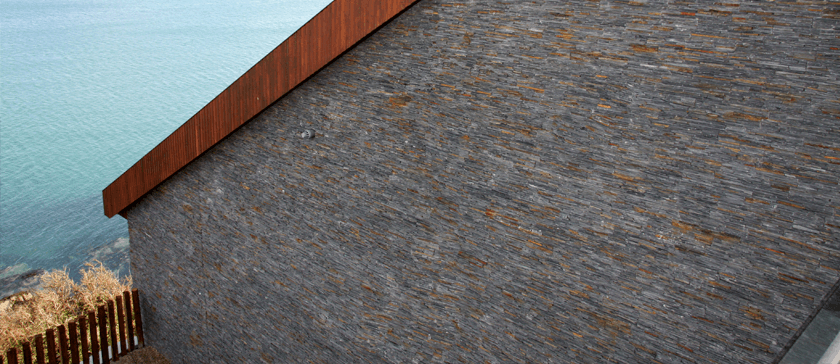 Inside, the comfortable warmth of the hotel is complimented by STONEPANEL™ JET DARK THIN SET lined walls and columns. A totally unique and stylish composition, perfectly suited to the hotel.
The presence of Ireland's only one Michelin star hotel-restaurant by Dutch chef Martijn Kajuiter is a great reason to visit this hotel. The luxury hotel, located close to Cork and Waterford, has been in existence since the Thirties like a tourits trade among Ireland's 'big house' families. In 2005, O'Callaghan family from Mitchelstown purchased the hotel and reopened in 2008 as one of the most successful small hotels in Ireland.
For further information, please visit our website.