STONEPANEL™ at Sniperley Fire Station, a project sympathetic to the environment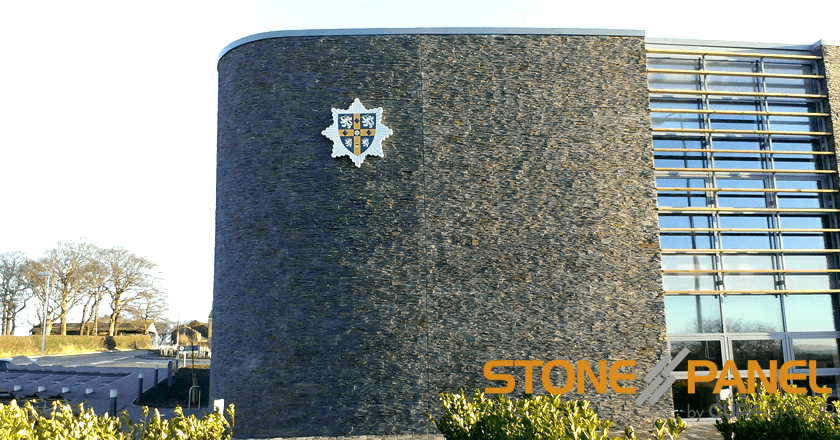 Our natural stone panels STONEPANEL™ enhance the external look of Sniperley Fire Station (Durham, UK), delivered by Napper Architects, a design both functional and sympathetic to the surrounding environment.
Sniperley fire station, completed in 2015, is located in the small green belt around the historic city of Durham. In order to carry out the rural nature of the site, Napper Architects selected our innovative system STONEPANEL™, the only natural stone panel certified and guaranteed for outdoor use. STONEPANEL™ Black Slate Thin Set is composed by traditional black slate pieces with dark and blue tones, that create an elegant wall cladding.
A CURVED FAÇADE CONSTRUCTED FROM STONEPANEL™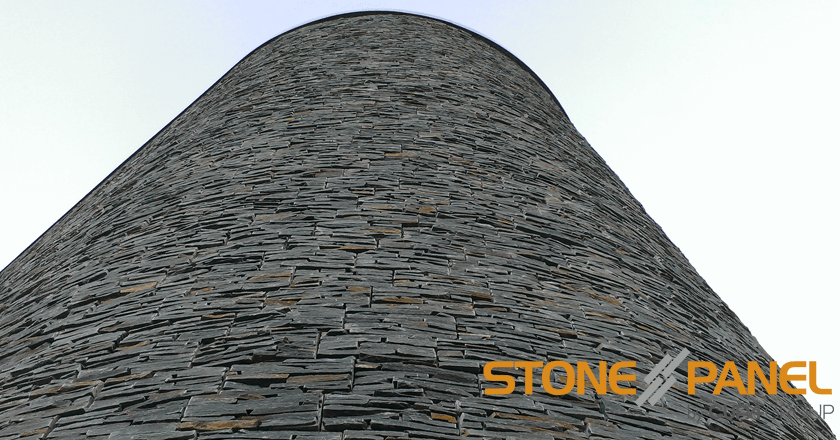 The new fire station building includes a training tower, with a curved façade constructed from curved natural stone panels STONEPANEL™, adapted to circular facades. These special pieces are totally safe and aesthetic. The incorporated mechanical anchor of STONEPANEL™, made of stainless steel, enables the installation of natural stone panels on surfaces higher than two meters. Certified by the most prestigious European organizations such as BBA-Agrément Certificates in UK, STONEPANEL™ prevents the joints from being visible thanks to its 'S' shape.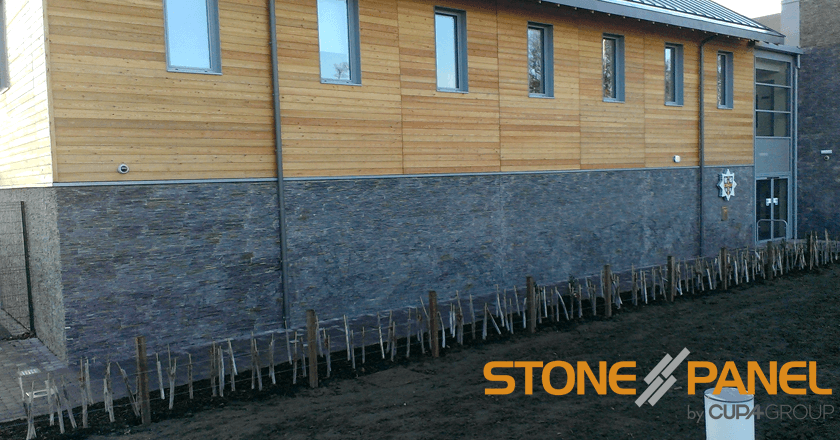 Thanks to its high versatility and numerous properties, STONEPANEL™ is ideal for installing on exterior façades as well as on either fully integrated interior walls. The stones are attached to a concrete base during manufacture under optimal controlled conditions. Perfect adhesion between the mortar-adhesive used for installation and the panel's base is verified and tested. For this reasons, natural stone panels are perfect when providing commercial projects such as shops, stores, hotels or high-traffic public spaces with distinction. STONEPANEL™ respond effectively to the needs of any architecture or design project.
A CONTEMPORARY DESIGN OF NAPPER ARCHITECTS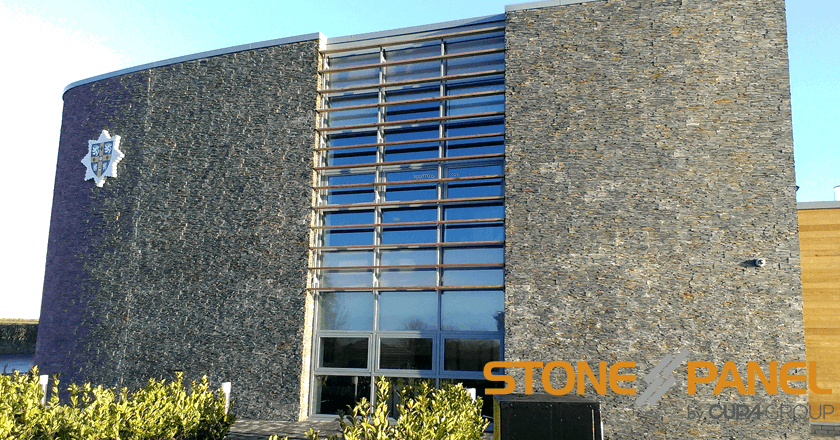 The natural stone façade fits perfectly with wood and glass, the other materials used for wall cladding. The 13,000 sq metre two-storey station replaces the fire station on Finchale Road, Framwellgate Moor, which served the community for 60 years. The main fire station building accommodates the facilities including garage, kitchen, locker rooms and a gym. The previous station was 60 years old, costly to maintain and no longer fit for purpose. That site has been sold for housing.
Napper Architects is a Newcastle based architectural practice which has worked nationally from the northern region since its formation in 1946.
For further information, check CUPA STONE website.