Sara Silm's French château with natural stone by Cupa Stone
Chateau Montfort is the name given to the incredible project created by Sara Silm. Known for her work as a photographer and interior stylist, she decided to bring this château, located in the French region of Béarn, back to life almost a decade ago. Today, it is not only a reality, but also a book, "How to French Country".
The origin of Chateau Montfort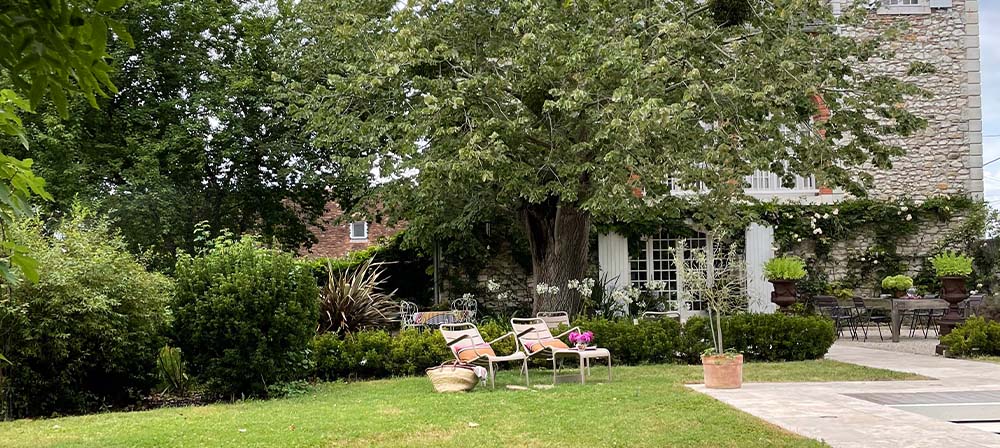 From Australia to France, Sara Silm has lived in numerous countries, from South Africa to Russia and Kazakhstan. "For the past eight years, I've lived in the Southwest of France where I've spent the majority of my time restoring a small Béarnaise château", says Sara.
Living in Kazakhstan with her family, she yearned to find a place where she could raise her three children and build incredible memories together. It was then that her friend Blair, who lived in Béarn, France, recommended them to explore the region.
"We booked a flight and, four days later, we stumbled across a small advertisement for an abandoned château. The agent was fully booked the day we found it but made an exception for us as it was our last day. We had just 20 mins to view the property but within the first few moments of entering its ancient oak doors, we knew we'd found our home. It was perfect!", tells Sara Silm.
This is how Chateau Montfort and her wonderful literary project "How to French Country" were born. This book, which you can find available internationally on her website, creates a design and colour guide that will help you create spaces inspired by the French countryside.
How to French Country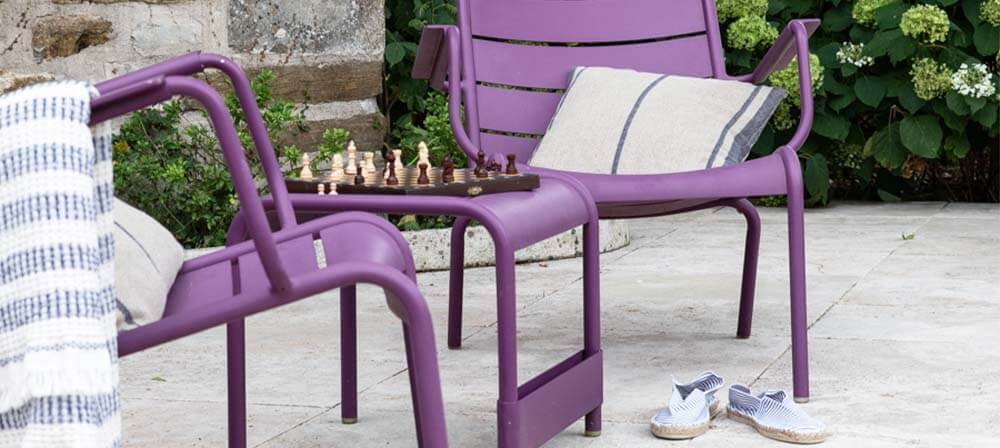 Sara Silm, in collaboration with the Thames & Hudson publishing house, decided to create this guide to the restoration of Chateau Montfort during the time of the pandemic. "Suddenly the world was staring at the walls of their own homes, imagining how they could make their environments more functional and homely, so I focused on making it a practical handbook that would really serve the reader. It's full of sourcing guides and DIY tips", explains Sara.
Thanks to her experience as an interior stylist and journalist for interior design magazines, Sara knew first-hand how difficult it can be, in any project, to find the inspiration and materials that reflect the history and essence of its owners.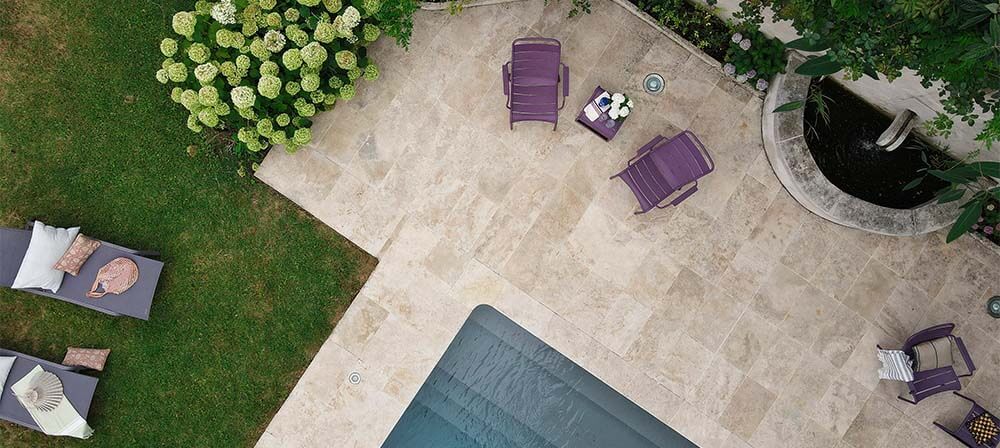 "I also taught colour theory for many years, so I created custom colour palettes for the book that take the angst out of making decisions. These colour palettes and materials are designed to be harmonious so there's a lot of creative freedom for the reader that comes from having a good safety net to fall back on when setting out on a project", says Sara Silm.
The design of Chateau Montfort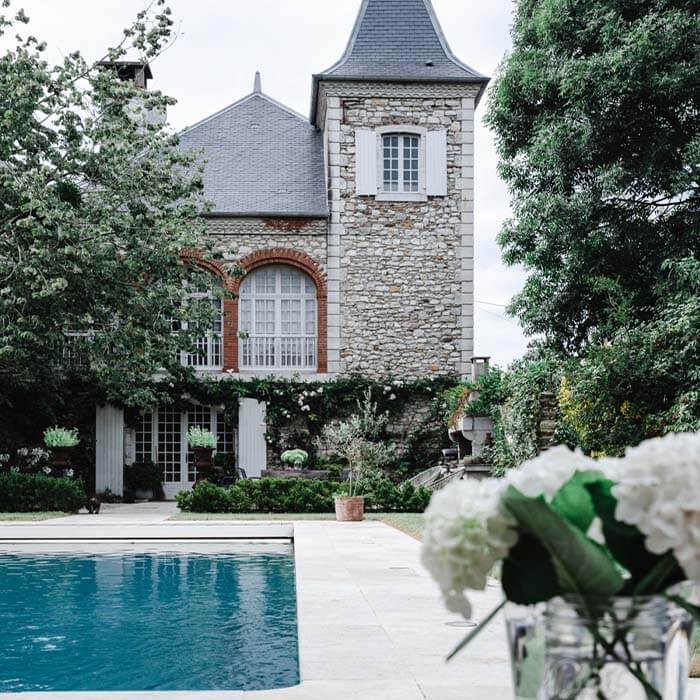 The property had been empty for many years, so its restoration was a slow process "but, bit by bit, it has revealed itself and today it sits proudly on its little hill in the Pyrenees, restored to its former glory. It's a great honour to be its current custodian", tells Sara.
"Chateau Montfort is very much a Béarnaise country house. Its colour palettes and materials reflect the landscape and there's a lot of patterns, mainly in the form of Les Indiennes fabrics and wallpapers."
"I've pared rustic natural materials like Cupa Stone's tumbled Travertine tiles with sisal rugs, oak beams and the exposed stone of the house, with softer elements like wood-block printed fabrics and chalk-painted furniture in muted blues, greens, dirty whites and pinks".
Natural Materials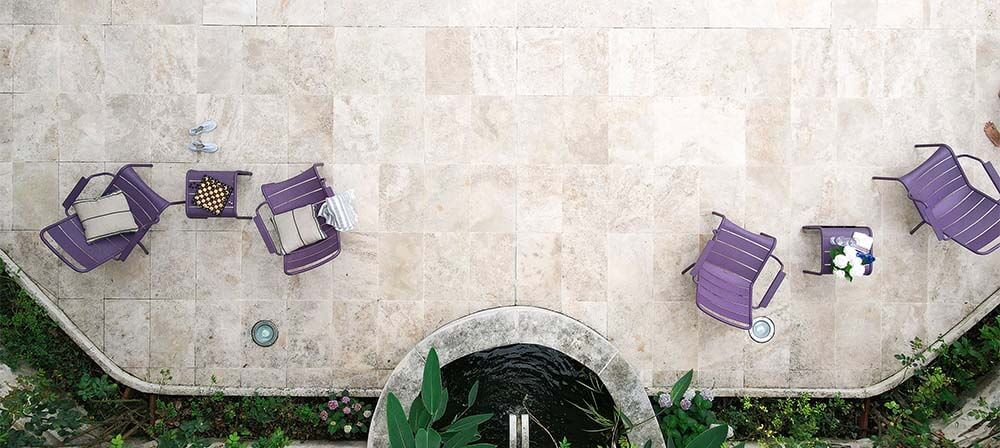 The country aesthetic of Chateau Montfort also stands out for its excellent use of natural materials and their integration into the design of spaces. "I love natural materials, combined with softer fabrics and wallpapers. They form the perfect palette for creating a French country aesthetic", explains Sara. "I also think that psychologically, being surrounded by natural materials such as stone is extremely grounding and creates a very nurturing environment to live in".
The natural stone of Chateau Montfort's floors stands out among the natural materials, as a base that unites the spaces with its mix of brown and beige tones and its texture. The travertine floors perfectly complement the beautiful aesthetics of the house. Its beautiful kitchen, full of country motifs, features a Travertine Standard Mix floor by Cupa Stone.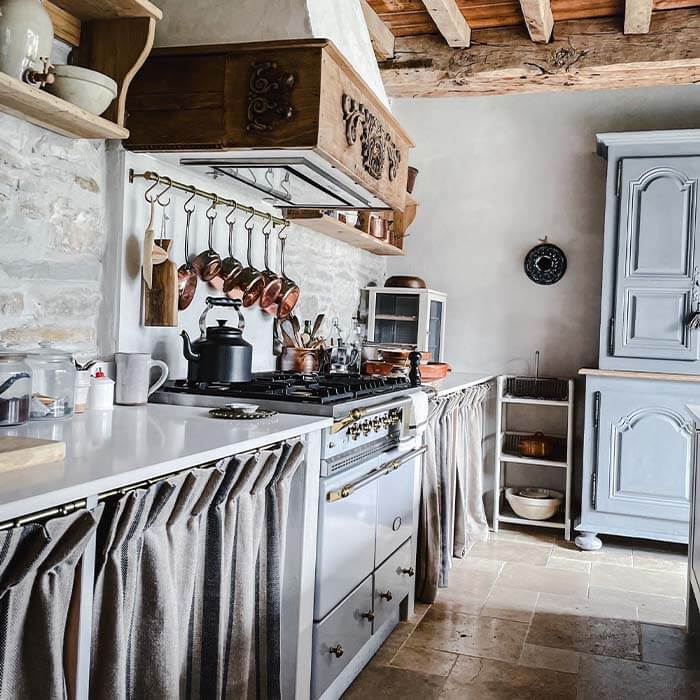 "It's honestly the best decision I've made in a kitchen. The natural variation of the stone is so forgiving when it comes to dirt and dust. I have two dogs, three children and a multitude of guests, not to mention the day to day rigours of country life and all it entails, so it's the most perfect solution for our lifestyle. I love it's rustic old-world flagstone feel too."
This material continues from the kitchen to the terrace, where it is combined with the light and luminous tones of the Travertine Light Mixte. "The kitchen and the terrace are linked so the materials naturally flow from one area to the next. The terrace landscaping includes white pebbles so the Travertine Light Mixte works perfectly with these and contrasts beautifully with the charcoal lined swimming pool".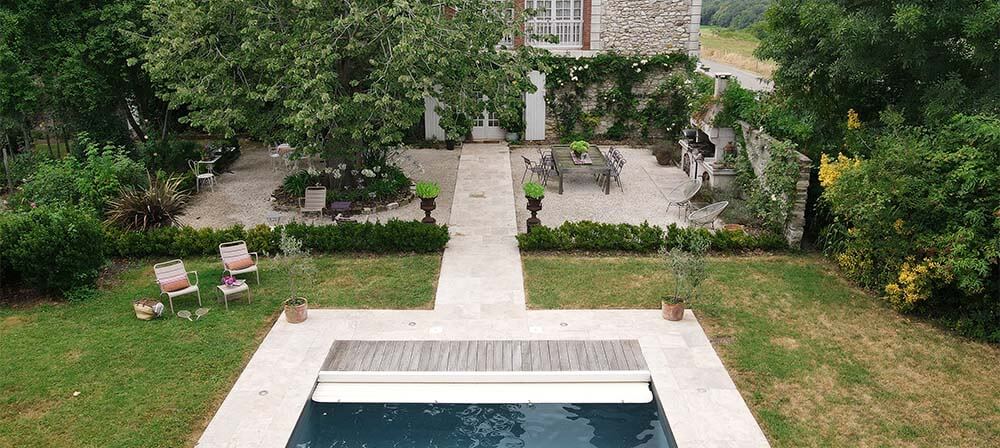 "Stone feels beautiful underfoot. It's cool in the summer but it looks and feel wonderful with rugs as well. The layering of natural textures – stone and rugs – is something I do a lot in my interiors. It brings a beautiful intimacy and homeliness that people often comment on when they visit. Stone is, of course, extremely practical in terms of cleaning and is the perfect solution for my lifestyle".
Natural stone is known for its strength, durability and unique aesthetics. Its resistance to inclement weather and daily use make it a material that should be considered when developing sustainable projects. "Never before has this been more important. The environmental consequences of our decor decisions are vital, so for this reason Natural stone is known for its strength, durability and unique aesthetics. Its resistance to inclement weather and daily use make it a material to be taken into account when developing sustainable projects.", comments Sara.
Are you thinking about starting a new construction project? Check out our catalogue here.