5 natural stone trends to look out for in 2018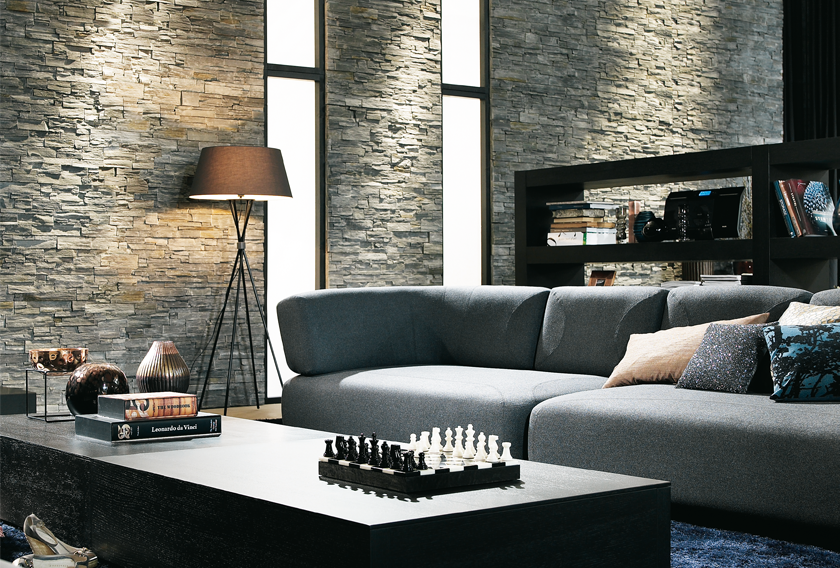 Natural stone is a very popular material used both outdoors and in the living spaces. Today, natural products such as granite, marble or slate are at the forefront of natural stone trends in 2018. For example, you will see it in contemporary bathrooms and robust worktops in kitchens.
Elegance and functionality are usually the main rules of any design project. New decoration trends convey a return to nature. Stone textures will rise in popularity during 2018. Here you will find 5 ideas that you can do with natural stone to decorate your home in the new year:
1. NATURAL STONE WALLS IN BEDROOMS
Natural stone creates an inspiring atmosphere when you add in the bedroom. The versatility of this material allows you to create a stunning look and rustic charm on the bedroom. A natural stone wall reflect a relaxing ambiance, perfect to rest after the daily hustle. It will adapt the style you prefer in your interior decoration. You can go with some different colors for designing your bedroom: brown, green, beige… Natural stone offers myriad of colors to match your decoration.
2. MIX OF NATURAL STONES IN KITCHENS
You are used to see granite countertops but it is not the only option for kitchens. You can also add some slabs of marble or quartzite for your backsplash areas to get more functionality and visual appeal. From rustic to contemporary spaces, you can play with different textures and materials for creating a unique look in your kitchen.
3. BLACK AND WHITE DESIGN TRENDS
Classic designs never die because they work. Black and white will take over walls and floors. This decoration trend will be represented in stone because it adds depth and visual interest to any room. You can use this natural style into your bathroom, your kitchen countertop or your living-room using granites, marbles, quartzites, gneiss or limestones.
4. A NEW CATEGORY OF ART
Designers are using natural stone in order to create beautiful and exotic pieces of art. Some homeowners will enjoy installing natural pieces on interior walls as pieces of art. Onyx manages to turn the most ordinary setting into a magical space in wall cabinets, bathroom countertops, staircases, bar backsplashes or fireplaces. Combine these onyx surfaces with LED lighting, and you have a surprising focal point that accentuates the beauty of natural stone.
5. BACK TO NATURE FOR INTERIORS
Decoration trends will show an emphasis on natural materials for interior design. Nature will permeate every space of our home. Interior design cares about sustainability and craft works, in order to reconnect with the natural world. Natural stone, extracted directly from the outdoors, allows for a landscape design to easily emulate nature, often creating the most serene space.
For further information, check CUPA STONE website.