Exterior wall cladding: a stone for every style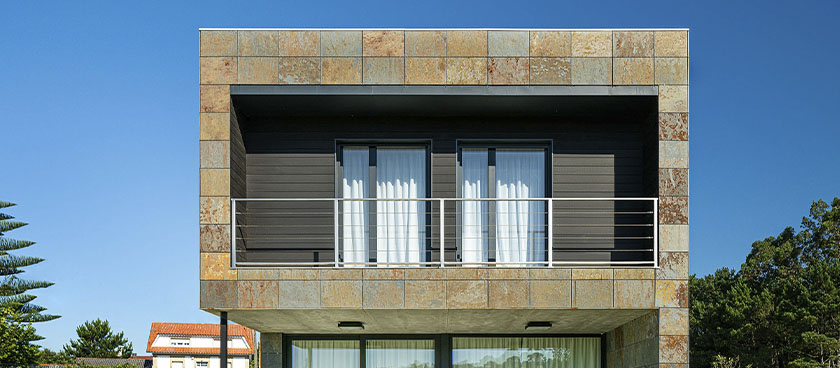 A home's natural stone façade is the best introduction to the style and personality of its owners, an architectural expression that gives identity and differentiation.
Give your home a personal touch with CUPA STONE's natural stone cladding range.
Besides its aesthetical role, exterior wall cladding is a protective layer of materials that separates a building's structure and interior from external elements, such as weather and sound. In other words, natural stone cladding is a good choice in terms of isolation, resistance, energy efficiency and, of course, beauty.
At CUPA STONE, we know that there are different circumstances and styles for every home, so this time we have chosen 4 natural stone cladding styles from some of our latest and most inspiring projects.
Stonepanel™, an ally for modular homes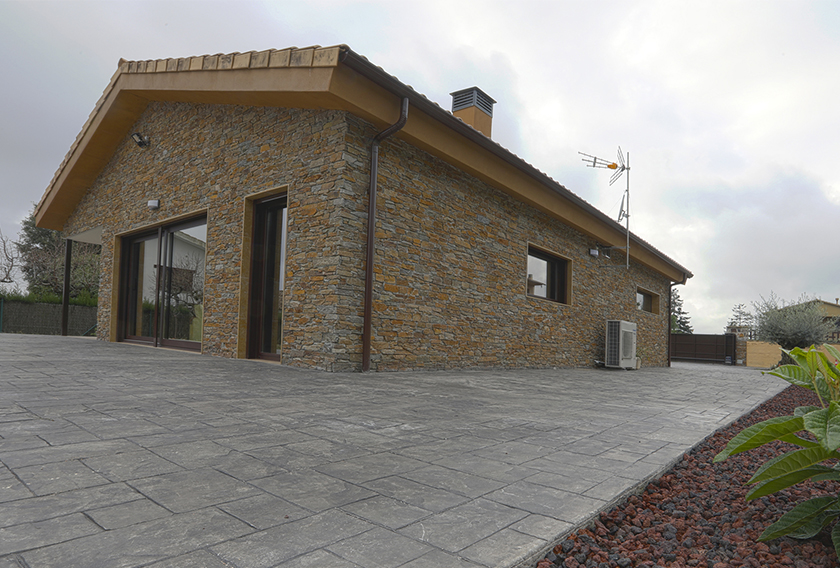 Modular architecture has meant a renovation in the world of construction, in accordance with more ecological, sustainable and efficient lifestyles. Stonepanel™ by CUPA STONE is an excellent ally for this type of constructions.
The model that has been chosen for the facade of this house is Stonepanel™ Sahara. This choice allows tradition to be combined with modernity, combining in one material the virtues of natural stone (durability and integration into the natural environment) with the benefits of industrialization (standardization, quality and shorter deadlines).
In short, both principles are fully in line with the philosophy of the modular constructions.
Multicolour slate for a contemporary style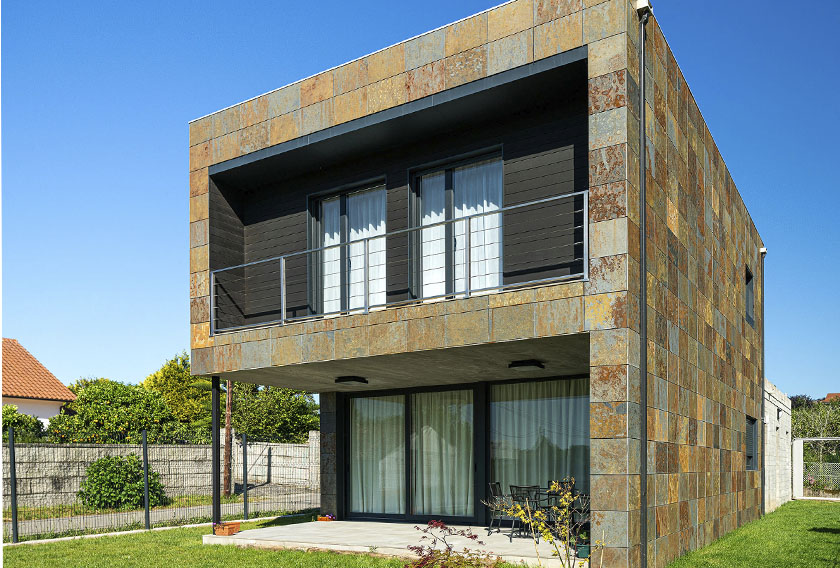 Slate, a metamorphic rock whose composition contains ashes from volcanoes that died out thousands of years ago, can be used both indoors and outdoors. It is a very resistant material, and practically completely waterproof, that gives any façade an inimitable, timeless, unchanging appearance. Those who install slate on their façades will have a lifelong relationship with it.
Although we usually identify the dark gray color with this stone, in fact nature offers it to us in a range of colors, such as the case of this multicoloured Brazilian slate by CUPA STONE.
In this project, the façade of the house has been cladded with CUPA STONE's Multicoloured Slate with green, ochre and rusty circular marks, and a natural rough finish.
The straight lines of this contemporary architectural design highlight the beauty of this natural stone and give it all the prominence it deserves.
A style with its own light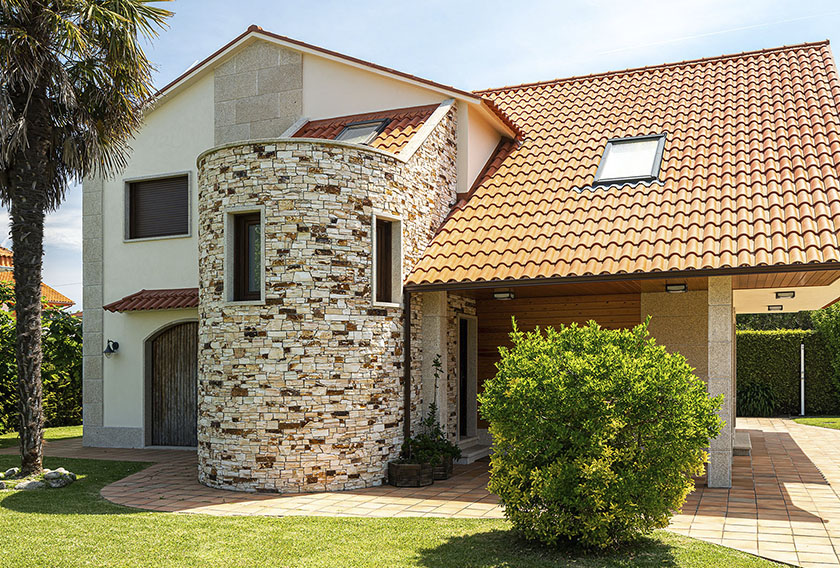 A natural sandstone Stonepanel™ has been selected to cover the exterior walls of this home, with an elegant and natural style that transmits warmth and timelessness. The stone panels add a sophisticated and original style to the wall covering, and are also a guarantee of sustainability, quality and durability.
Resistant to corrosion, wear and erosion, sandstone is a variable color sedimentary rock formed for many years below the surface of oceans, lakes and rivers.
The model chosen on this occasion has been Stonepanel™ Marina, a panel of golden sandstone with different shades of earth, cream and brown that make up a very bright combination.
Ideal for outdoors and wet locations, the colorful grains of sandstone offer a multitude of decorative possibilities. Furthermore, thanks to its insulating properties and durability, this natural stone is excellent for creating walls or cladding facades.
Infercoa and contemporary design: a perfect match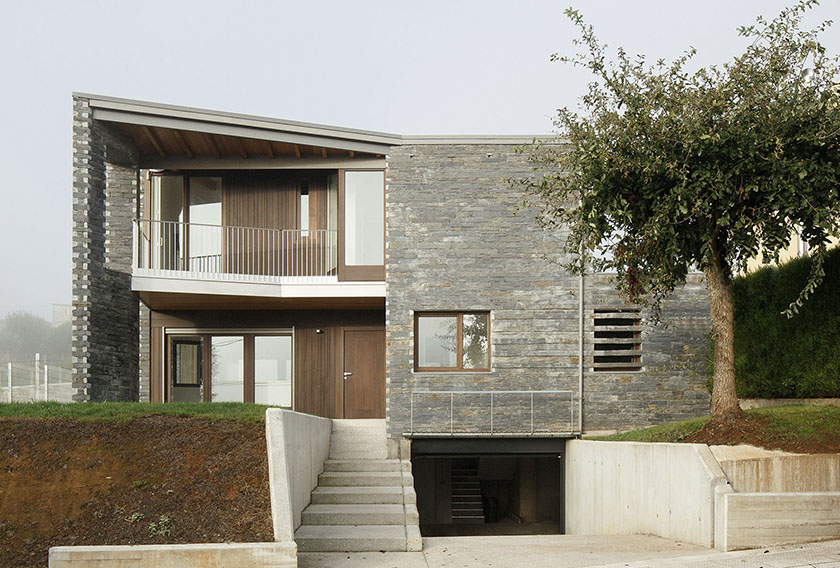 The façade of a building is one of the most important parts in terms of design. It is the first thing you see, so it marks the personality of the home from the first moment. Like interior decoration, the façade design of a house will depend on your taste and the style you want to give it.
In the case of this house designed by Arrokabe Arquitectos, the slate is the main protagonist that gives it an indisputable character and an outstanding presence, without breaking the harmony of the environment.
The combination of strength, versatility and elegance is the hallmark of Infercoa, natural slate extracted from CUPA STONE quarries in Portugal. It is a unique black toned slate with a characteristic rugged and natural appearance.
That is why natural stone cladding styles are the best option, and that is why stone has been used for thousands of years and stands out for its strength, durability, insulation and aesthetics.
For further information, visit CUPA STONE website.