STONEPANEL™, the safest natural stone panel on the market thanks to its system, patented 10 years ago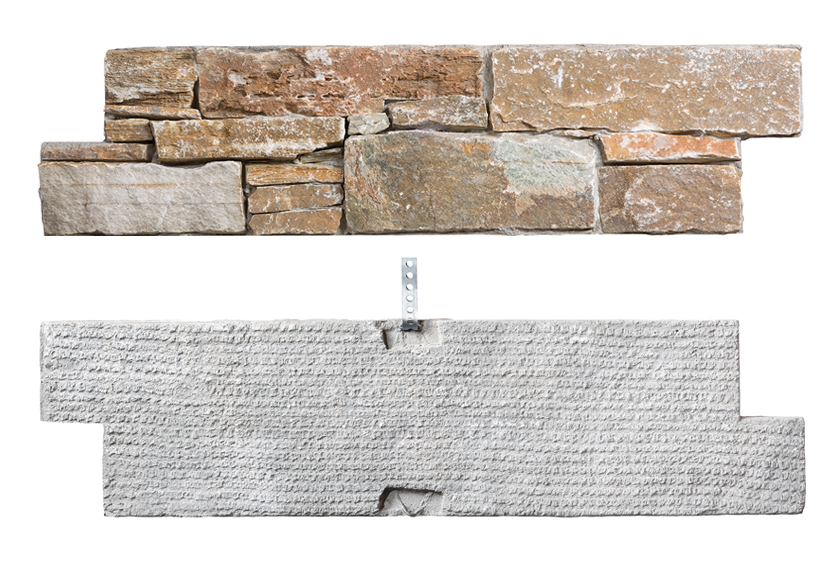 STONEPANEL™ is an innovative cladding system of pre-assembled panels of natural stone, created and patented by CUPA GROUP and manufactured exclusively by CUPA STONE. This pioneering material on the market has an innovative mechanical anchor, patented more than 10 years ago. Nowadays, STONEPANEL™ is the only natural stone panel certified and guaranteed for outdoor use.
AN EXCLUSIVE AND PIONEER PRODUCT
STONEPANEL™ panels are an exclusive product of CUPA STONE, created since 2005. Each panel is composed by natural stone pieces -such as quartzite, gneiss, limestone or slate- mounted on a cement base and reinforced with lightweight glass fiber. Its only 3 cm base thick allows for natural, rustic or aged stone pieces to be arranged in unique ways. The R&D Department of CUPA GROUP has developed a patented mechanical anchor in 2007. Thanks to this innovative system, STONEPANEL™ is the only natural stone panel certified and guaranteed for outdoor use. This stainless steel system ensures its total safety, strength and durability when installed on surfaces higher than two meters.
It is suggested to fix back the stone cladding to a masonry substrate with Ardex X7G+ adhesive up to a height of 2 metres, taking into consideration the guidelines in the BBA. Thereafter, it is recommended to utilise the mechanical fixability of STONEPANEL™ hooks in conjunction with the adhesive.
THE PATENT, A DIFFERENTIAL VALUE
A patent is a right granted to an inventor by the federal government that permits the inventor to exclude others from making, selling or using the invention for a period of time. What does a patent mean for STONEPANEL™? The patent offers a differential value: it guarantees the safety of the panel thanks to its incorporated mechanical anchor. Strong and uniform cement base ensures adherence and allows piece cutting without risk of detachment. In addition to protecting it against copies, the patent generates total confidence and security to the professional when installing the product.
A RELIABLE, SAFE AND CERTIFIED PRODUCT
This innovative system is certified by the most prestigious European organizations: the United Kingdom (BBA – Agrément Certificates), France (CSTB – Avis Technique), Norway (SINTEF – Technical Approval) and Germany (DIBT – ABZ). Another advantage offered by the product is that it has special pieces to adapt perfectly to each home: corners (solid, straight end, double end or for windows), wall coverings and other solutions.
Taylor Maxwell are the sole supplier of STONEPANEL™ in the UK.
Find out what projects you can develop with STONEPANEL™.