STONEPANEL™ gives a natural appearance to this charming summerhouse in Denmark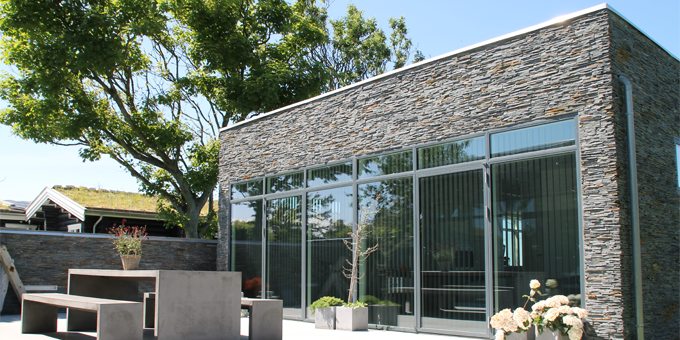 The inimitable natural stone panel STONEPANEL™ gives a beautiful look to this charming summerhouse in Denmark. Thanks to the exterior natural materials STONEPANEL™ BLACK SLATE THIN SET, this house placed at the Northern part of Sealand gets a sober and rustic exterior wall cladding because of its natural black and brown tones.
Our STONEPANEL™ BLACK SLATE THIN SET is a traditional black slate, with dark blue tones, in a totally unique and stylish composition.
This unique system, created and patented by CUPA GROUP, can be used for any type of exterior or interior natural stone wall cladding application.
This project used 180 square meters of STONEPANEL™ BLACK SLATE THIN SET and 200 square meters of our massive corners.
COMPOSED BY 100% NATURAL STONES
Composed by 100% natural stones, mounted on a cement base and reinforced with lightweight glass fiber, STONEPANEL™ allows for stones to be arranged in unique ways while avoiding any risk of detachment.
Panels are Z-shaped to avoid visible joints and produced in two standard sizes 61×15.2cm and 60x20cm, different thickness available depending on model.
STONEPANEL™ creates a unique appearance offering comfort and style. Our natural stone panels are an excellent solution because of its irregular texture and exquisite colors that add a natural and elegant appearance to your home.
For more information, visit CUPA STONE website.