STONEPANEL™ in The Memorial Hall, the hub of cultural activity at Christ College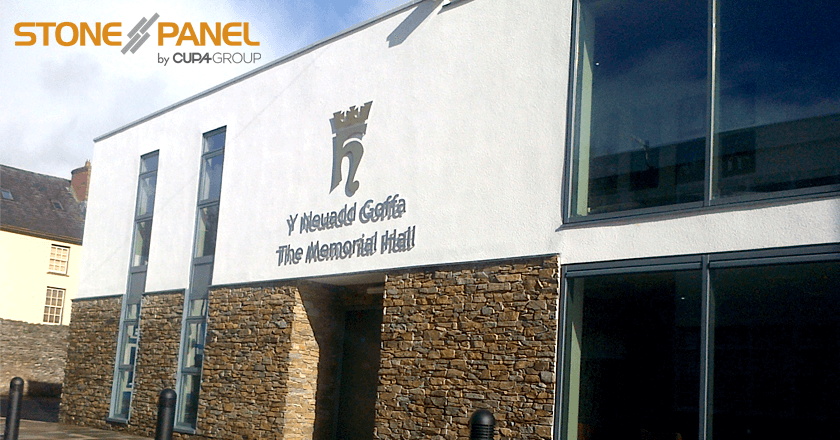 Christ College (Brecon) in Wales celebrates its 475th anniversary this year with a modern new building, the Memorial Hall, the hub of cultural life in the centre. Clad in STONEPANEL™, this remodeled facility accommodates the growing number of pupils and different activities such as events, performances and conferences.
Inspirational as well as functional, the project was completed in September 2013. Originally known by its Welsh name 'Y Neuadd Goffa', this place became too small as the centre of the school's cultural and communal life. The time arrived to develop a new building which would serve the changing needs of the school. In this case, building on the legacy of its predecessor 'y Neuadd', this project provides new facilities for drama, music and public performance, a new gallery space for the outstanding and a new space for the performing arts.
AN ATTRACTIVE AND WELL-DESIGNED FACILITY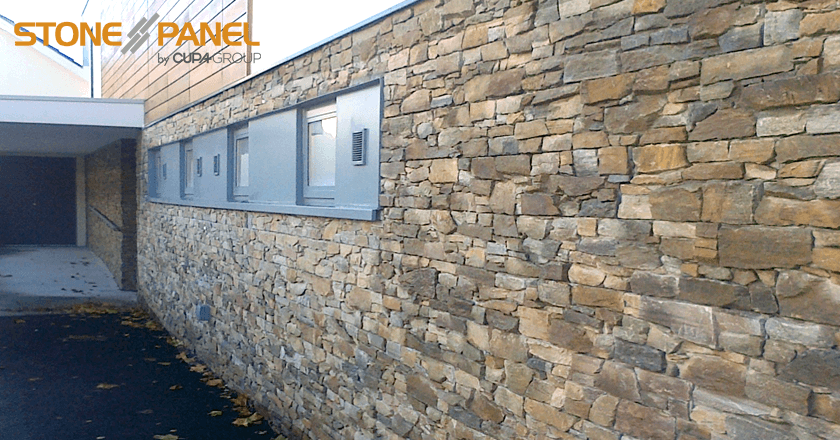 Opting for a stone façade clad in STONEPANEL™ SAHARA -multicolor quartzite with brown and grey tones-, the school gives greater prominence to natural stone, in harmony with the recent improvements in and around the Quad. This facility is an attractive and well-designed building that adds to the existing physical environment of the school.
Designed by Theatretech, the twin storey foyer was added overlooking the Grade 1 listed chapel and playing fields on one side of the theatre, and dressing rooms and a Studio Theatre were added on the other. Developed by Ace Building Contractors, the building incorporates the most demanding architectural and exterior design trends such as natural stone.
Available in a standard measure of 60 x 20 x 3,5 cm, the project used our incorporated mechanical anchor made of stainless steel, that enables the installation of natural stone panels on surfaces higher than two meters. Here you can see the virtual design of the Memorial Hall:
Around the idea of authenticity and warmth, the STONEPANEL™ SAHARA cladding façade of The Memorial Hall enhances the teaching space for the performing arts, both inside and outside the curriculum. This valuable and much-needed resource for the local community, including primary schools and charitable organisations, gives a new opportunity to the excellent physical environment at Christ College.
Some special pieces are available such as corners (solid, straight ed, double end and for windows), coverings and other complementary solutions. The 'S' shaped of our natural stone panels avoid invisible joints, in order to enhance the exterior facade of this project. This building benefits from beauty and exclusiveness of natural stone.
For further information, check CUPA STONE website.