STONEPANEL™, the solution to get BREEAM Excelent rating in Biddulph health care centre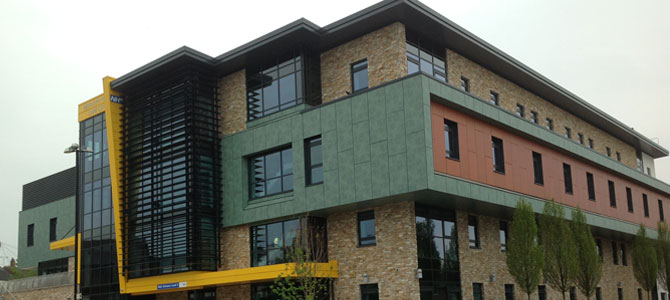 STONEPANEL™, the innovative natural stone cladding system for walls and facades, fits in well with the local architecture for Biddulph Primary Care Centre in Staffordshire (UK). Taylor Maxwell, exclusive distributor of STONEPANEL™ in the UK, provided our natural stone panels STONEPANEL™ ORIENT GOLD to this four-storey building in this small town. 
STONEPANEL™ ORIENT GOLD is a golden quartzite panel with earth-tones and light grays in an elegant and bright combination. Designed by One Creative Environment Ltd, this health care centre needed to satisfy an Environmental Assessment Method (BREEAM) Excellent rating. Our pre-mounted stone panels were the solution because of its isolation and efficiency.
Mounted on a cement base and reinforced with lightweight glass fiber, STONEPANEL™ is the safest and most efficient stone cladding solution. It is 10 times faster than traditional masonry, with a very simple installation and suitable for cladding in any location. Panels are Z-shaped to avoid visible joints and produced in two standard sizes 61×15,2cm and 60x20cm.  
STONEPANEL™ has been awarded certificates in Spain, United Kingdom (BBA), France (CSTB), Norway (SINTEF) and Romania (INCERC). 

For more details, visit CUPA STONE website.
Take a look at the case study featuring the Biddulph Primary Care Centre in Taylor Maxwell website.