Top 5 non-residential buildings with CUPA STONE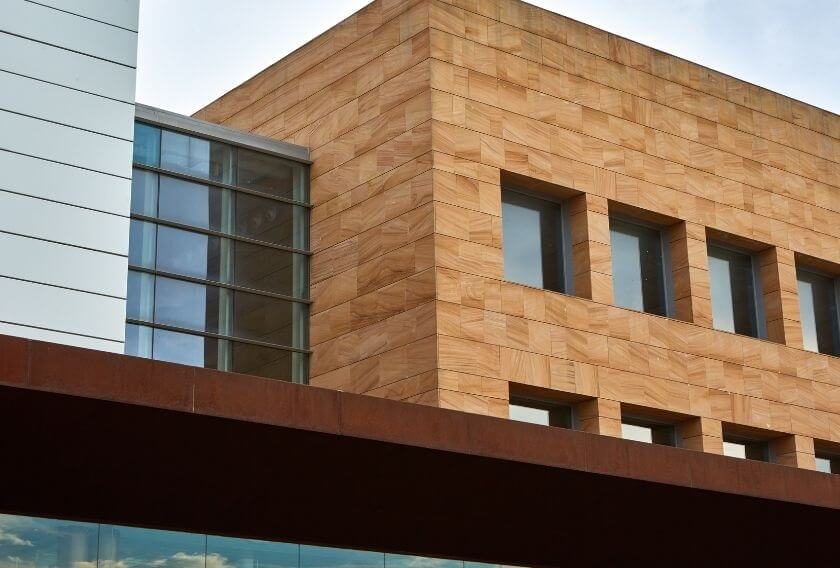 Natural stones were one of the first building materials in the history of mankind. Today they continue to be one of the preferred materials by engineers and architects around the world for the creation of both residential and non-residential buildings. On this occasion, we are going to focus on the Top 5 non-residential projects in which the natural stones of CUPA STONE have been used
From a cultural center in France, to a fire station in the UK, or a university library in Spain. Any project is susceptible to having CUPA STONE natural stone.
Advantages of natural stone in non-residential buildings
In other words, if the goal is to build long-lasting buildings, modern facades or environmentally friendly spaces, natural stone will always be an excellent option.
Thus, the main advantages of natural stone are:
Thermal isolation. Natural stone is a great insulator that contributes to the energy efficiency of the building.
Acoustic isolation. Due to its mass, natural stone is an excellent noise insulator.
Natural stone is totally fireproof.
It adapts to both interiors and exteriors, and can be installed on the facade, walls or floors.
Each stone is unique and timeless, giving projects a noble and inimitable appearance.
Durability. Natural stone is a very resistant and durable product. Its appearance is maintained over the years without deterioration, thus saving maintenance costs.
Reusable. It is the sustainable construction material par excellence since its useful life does not have to end with that of the building, but it can be recycled and placed in another new construction.
This material is definitely a good option for all types of non-residential projects. This is our Top 5 non-residential projects with natural stone.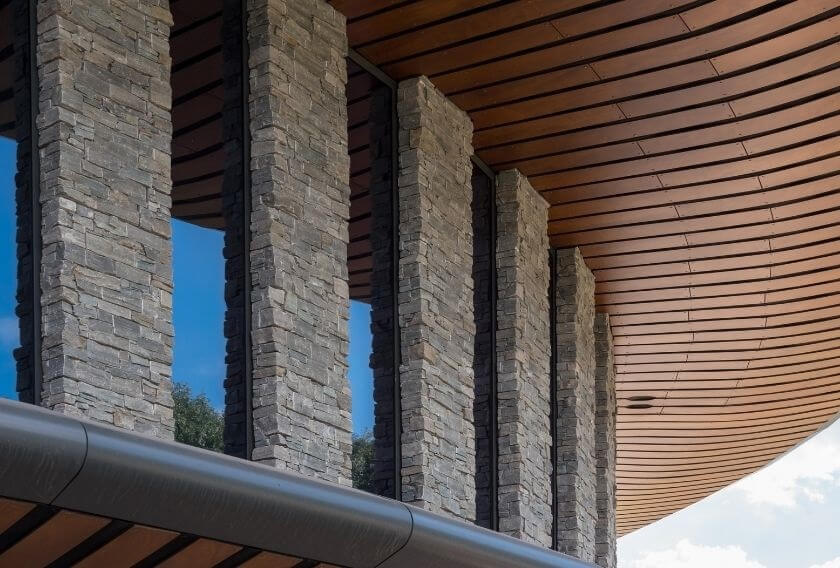 1.- Caudwell International Children's Centre
Our STONEPANEL™, certified and guaranteed for outdoor use, has been used for cladding the exterior façade of the Caudwell International Children's Centre in Keele (United Kingdom), designed by architects C4 Projects.
Supplied by Taylor Maxwell, exclusive distributor of STONEPANEL™ in the United Kingdom, this natural stone in grey shades has been chosen for the exterior design of the UK's first independent facility dedicated to autism diagnosis, therapy and research.
STONEPANEL™ Nordic is a natural grey quartzite that gives a sense of brightness, warmth, and freshness. Furthermore, our natural stone panels suited perfectly to the building's curves and junctions, a curvilinear design highly aesthetic and functional. To sum up, a warm and welcoming building with a natural-looking.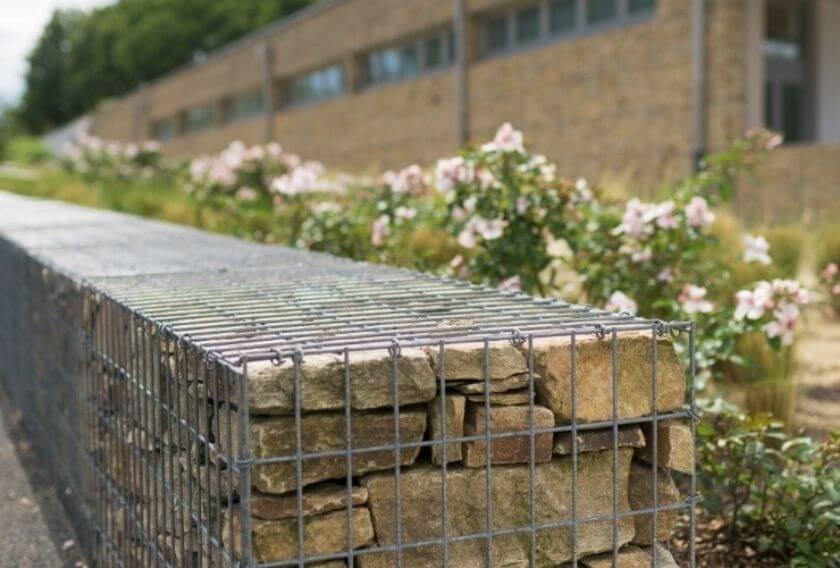 2.- Aquatic and sports center in France
The Gneiss de Saint-Yrieix of CUPA STONE offers perfect harmony with the environmental landscape on the facade of this aquatic and sports center in France.
With a surface area of ​​over 3,000 m2, this project was designed by Moinard Blanchet Associés Architects in collaboration with Spirale. The semi-urban site where it is located, is marked by a predominantly landscape with large forest areas.
Installed in rubble stone and bar format, Gneiss de Saint-Yrieix creates dry stone gabions that are very popular thanks to their economic and ecological advantages.
Furthermore, the facades in gabion format with this natural stone offer harmony with the environmental landscape of the site.
Authenticity and character. These are the predominant characteristics of this natural stone, with its shades of beige and grey combined with lighter tones.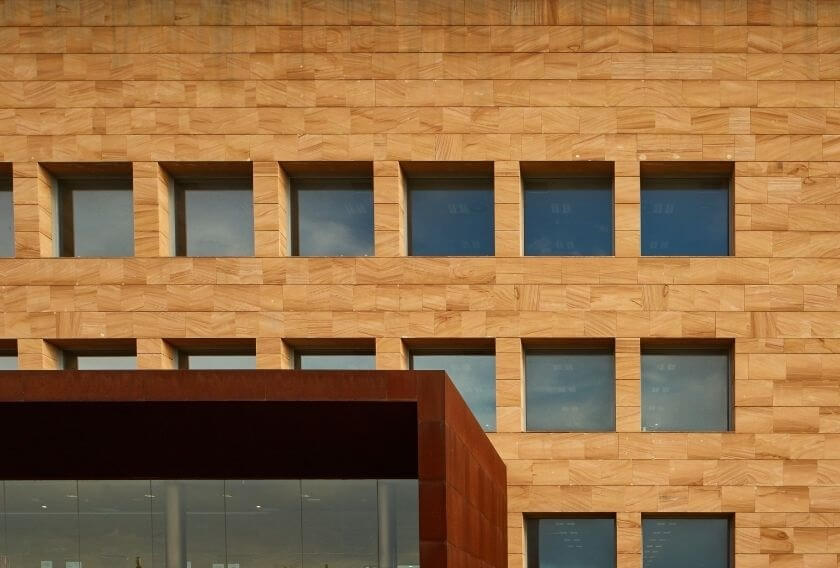 3.- University Library in Spain
The architects Enrique Fombella and Antonio Mata chose the CUPA STONE Teka Sandstone to emphasize the reading room, one of the main nuclei of the Library of the Rey Juan Carlos University Campus (URJC) in Madrid, Spain.
Teka Sandstone, a natural stone with a wood appearance, gives strength to the facade of the building. The beige tones and brown veins of the sandstone facilitate the aesthetic and environmental integration of the construction. Natural light enters the library from the main entrance thanks to a suspended space.
The building, among our Top 5 non-residential projects with CUPA STONE natural stone, was conceived as a «large multifunctional container» capable of adapting to new challenges such as the appearance of new technologies, the replacement of the book by the computer or changes in the learning and consultation systems.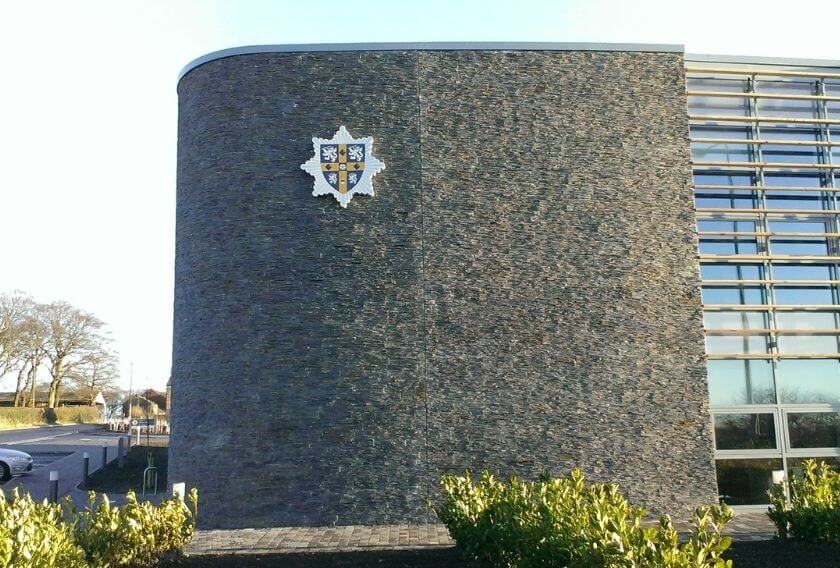 4.– Sniperley Fire Station UK
Our natural stone panels enhance the external look of Sniperley Fire Station (Durham, UK), by Napper Architects, a design both functional and integrated to the surrounding environment.
This fire station building includes a training tower, with a curved façade constructed from curved natural stone panels STONEPANEL™, adapted to circular facades. These special pieces are totally safe and aesthetic.
The incorporated mechanical anchor of STONEPANEL™, made of stainless steel, enables the installation of natural stone panels on surfaces higher than two meters.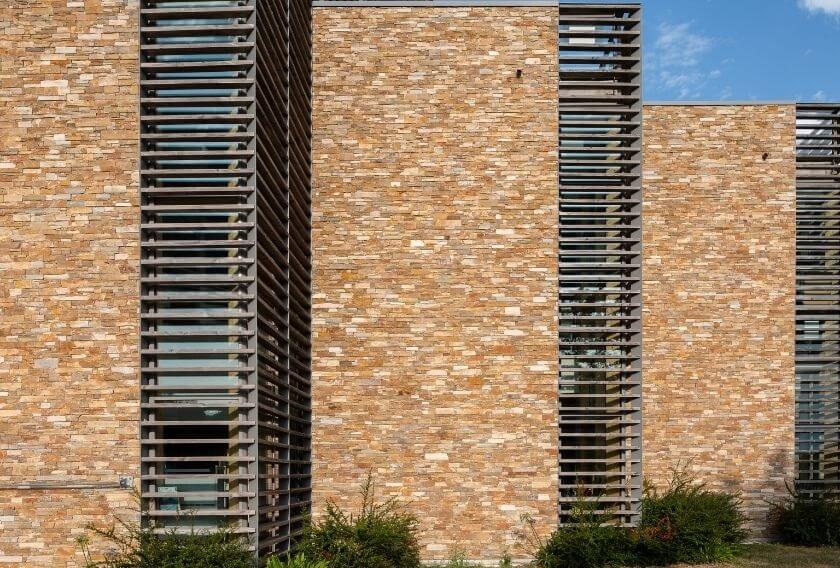 5.- Grain de Sel Cultural Centre in France
The architect Patrice Liard, of Liard & Tanguy Architects understood the underlying challenge of this cultural center in France: to preserve the communal social bond with a space ready for exchanges, sharing and meetings.
This building harmoniously integrates 3 spaces in 1: a media library on 2 levels, a performance hall and an exhibition hall.
The golden quartzite in brown and light gray tones of the STONEPANEL™ Orient gives a rustic and modern touch to this atypical project for its design and function.
Natural lighting, the quality of the acoustics, or thermal comfort were very important for the design of this project included among our Top 5 non-residential projects with CUPA STONE natural stone .
The natural stone of CUPA STONE brings an atmosphere that is both elegant and bright. The stone cladding system on the exterior walls offers even more efficiency, safety, quality and aesthetics to this project.
Further information about CUPA STONE projects.