Granite: 5 reasons why it is your best home investment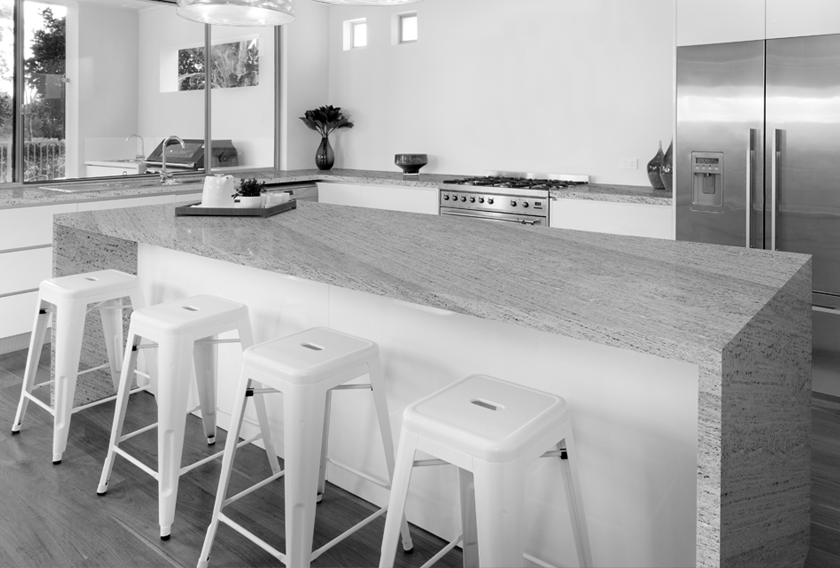 Granite is a great choice for any contemporary construction. Nowadays, architects and designers have discovered multiple applications for this natural stone, a hard and compact igneous rock formed by quartz, feldspar and mica. Here you have 5 reasons why granite is your best home investment:
1. A WIDE RANGE OF FINISHES
The flecked and sparkling appearance of granite make it an ideal material for construction and decoration. Architects and designers are engaged to install granite for both interior and exterior projects as well as landscapes. You can choose among various surface finishes such as flamed -protecting the stone for outdoor use-, chiseled -giving the stone a rustic appearance- or polished, a non-porous finish making the stone highly resistant to external agents. Whatever type of granite finish you choose for your house, it will revalue your property.
2. A CONTEMPORARY LOOK
New constructions use granite for exteriors (facade cladding, driveways, swimming pools, public gardens) and interiors (bathrooms, countertops, kitchens, living rooms). The surface finishes provide a wide variety of aesthetic looks. The colors, textures and schemes are perfect for all kinds of decorative uses creating stylish designs. Elegant and sophisticated, granite brings lightness and brillance to any contemporary project.
3. A SUSTAINABLE CHOICE
As a natural product, granite is inherently earth-friendly and sustainable. This stone offers environmentally attributes including an enduring life-cycle, durability, ease of care and recyclability. The transformation of this raw material requires less energy and the possibility of reuse. The product is cut and finished in the factory and finally, it is installed in the project, minimizing waste and working to be eco-friendly through green building.
4. RESISTANCE AND HARDNESS
Besides the natural beauty, granite is naturally resistant to moisture, scratching and heat. This natural stone can remain unchanged for decades. The combination of quartz, feldspar and mica is responsible for heat resistance. For example, if you take a hot pan out of the oven, you can place it directly on your countertop surface without any harm.
5. VERSATILY IS THE KEY
The last reason why granite is a great investment for your home is versatility. All slabs can be transformed in small formats so it is quick and easy to install. It doesn't matter what pattern you choose, it can be adapted to any room in your home. This gives your house a kind of elegance no other house can offer. Save money and improve the quality of your house with granite countertops, pavings or tiles. You'll be glad you made the investment.
For further information, check CUPA STONE website.