Francisco Lorenzo: "The natural stone companies should focus on innovation"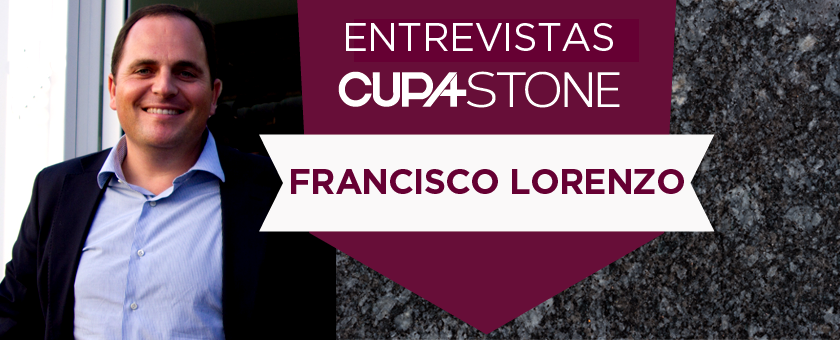 CUPA STONE selects the best natural stones from Europe's best quarries, using our years of industry experience to find the ideal product for the customers. We assess the situation of the international natural stone market and the latest trends in the following interview with our expert Francisco Lorenzo, Sales Director at CUPA STONE.
1. How do you assess the present situation in the international natural stone market?
The situation in the natural stone market from 2008 until 2013 has been of hard adjustment due to the severe financial crisis. Since 2014 some countries like USA, Uk and Germany have increased their demand of natural stone and changed that negative trend. At this moment China represents the 32,6 % of the natural stone market, Italy 13.78%, Turkey 12.12%, India 10.86%, Brasil 6.94% and Spain the 4.98%. Due to this, only those companies that will be able to produce unique or exotic stones will maintain their profit. The rest of them will have to deal with a problem of overproduction which leads to a dramatic price reduction. Investment in innovation has to be the key element of the natural stone companies to recover the market together with marketing campaigns, highlighting the advantages of the natural stone in comparison with alternative materials.
2. What are the natural stones most in demand currently and what trends are emerging?
Our exclusive products –STONEPANEL™, INFERCOA and Quartzite from Villafranca– and our granites are the most demanded materials in CUPA STONE. People tastes are changing and rustic finished that generally were used for exterior are also installed in the interior of the buildings. The market trends change a lot from one country to another. For example, in some areas of USA like Florida or California, exotic stones are highly appreciate, while in some European countries like UK, France and Germany, black and white color stones are really popular and colorful stones are more difficult to sell.
3. What do CUPA STONE customers understand by quality?
Apart from the required quality of the product, there are other aspects that help on people's perception about quality like the technical advice that clients receive during their visit to our warehouses or talking to our sales representatives; the high quality service given to our clients during the sale process and a proper after sale service in the event of unexpected problems.
4. In what kind of applications are natural stones currently most used?
Both interior and exterior applications have extremely increased recently. Apart from traditional ones like paving, worktops, roofing slate, dimensional stones…. Stone is being used in many different applications like shower trays, massive sinks, furniture…
5. How do you see the market for natural stone evolving and the specific challenges in the near future?
The market will be increasingly competitive. The natural stone companies should focus their efforts on those stones which they are more competitive and invest in innovation to find new surface finishes. Natural stone products should be perceived by customer like a trendy product which offer a wide range of possibilities in any kind of project. Social networking will be a key factor as well to maintain a fluent contact with our clients and be able to know their needs and what they expect from us in advance.
For further information, check CUPA STONE website.