Make a DIY headboard with Stonetack™ in 30 minutes
Headboards are a great way to completely transform the look of your whole bedroom. Using STONETACK™, the first auto-adhesive natural slate panel for interior wall decoration, you can create a DIY stone headboard in only 30 minutes.
Each panel is made from sheets of slate backed with a thin layer of adhesive to attach the panel to the wall (with a surface area of 54 x 30 cm, and between 5.5 to 7.5 mm thick). STONETACK™ has been designed to be installed in minutes (it will take you 10 minutes to install 1 sqm) with an easy, 3-step process.
NATURAL SLATE EXCLUSIVE TEXTURES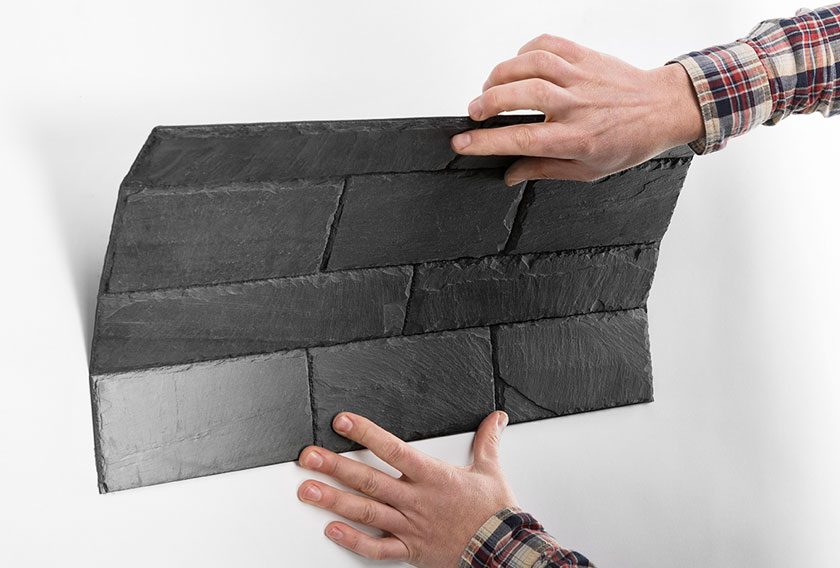 Natural slate's unique, exclusive textures creates both rustic and contemporary environments. Its dark-hued brilliance and elegant texture add an authentic, natural look to your bedroom. You can design a DIY stone headboard in only 30 minutes with STONETACK™.
First of all, we recommend that you plan your preferred design, marking the guidelines. Always begin installation at the lower part of the wall and proceed upward. Use of a level is advised to ensure the panels are perfectly horizontal. This stone headboard is composed of 5 rows of STONETACK™. The product is available in boxes of six panels of which the size of 54 x 30 cm corresponds to the covering of an area of ​​approximately 1 m². The panels can be cut with slate cutters, a grinder or a jigsaw.
A 'DO IT YOURSELF' IN 3 STEPS

STONETACK® adheres to any type of support (tile, cement or wood). Before installation, we recommend that you plan your preferred design, and test it first with the protective paper in place. Once you're sure, "Do It Yourself" in three steps:
Clean the surface with a damp cloth and let dry.
Remove the protective film from the adhesive. Be sure to locate the position where you want to adhere the panel before removing the protective film. Once the panel is adhered, it cannot be readjusted or removed.
Attach the panel applying pressure for 5 seconds.
A DIY stone headboard made with STONETACK™ is a beautiful, cost-effective way to bring a cozy element to your bedroom. The design possibilities are wide open for achieving your sleeping zone more comfortable. In bedrooms, a stone headboard accentuate the bed and nightstands. You will never want to leave your bedroom!
Are you looking for inspiration? Check more creative ways to dress up your walls with STONETACK™.