CUPA STONE will be exhibiting at Swissbau 2018, Switzerland's biggest building trade fair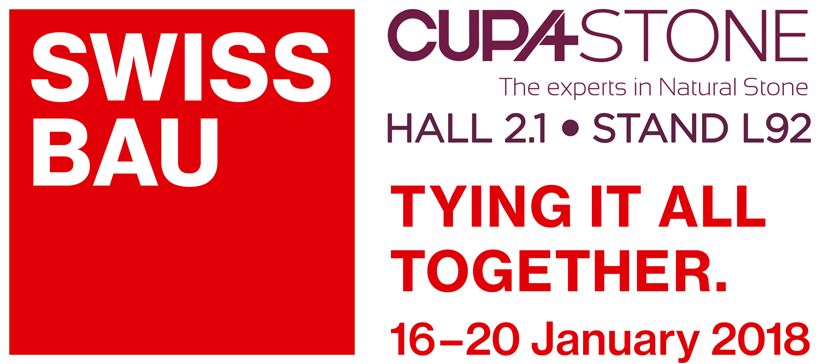 CUPA STONE Swiss will be exhibiting at Swissbau, one of Europe's biggest trade fairs for the construction industry that will be held from 16th to 20th January 2018 in Basel (Switzerland). Our Swiss team will be showing at stand L92 located in Hall 2.1, a selection of our natural stone panels STONEPANEL™ and CUPACLAD®, natural slate rainscreen cladding systems.
A PARTNERSHIP WITH LAMINAM
More than 100,000 visitors -most of them architects, interior designers, engineers and specialist planners- will choose the platform offered by Swissbau 2018 to meet and do business. Our 118m² booth has been designed in partnership with Laminam, specialized in the production of ceramic slabs with large surfaces and minimum thickness. CUPA STONE, exclusive distributors of Laminam in Switzerland, has created an inspirational space around a great design countertop. CUPA STONE Swiss will present a selection of the products for architecture and decoration (cladding, paving, interior, exteriors, countertops, etc) that can be visited at the showroom located at Lidwil 10, CH-8852 Altendorf (Switzerland) with an exhibition area of 1,800 m².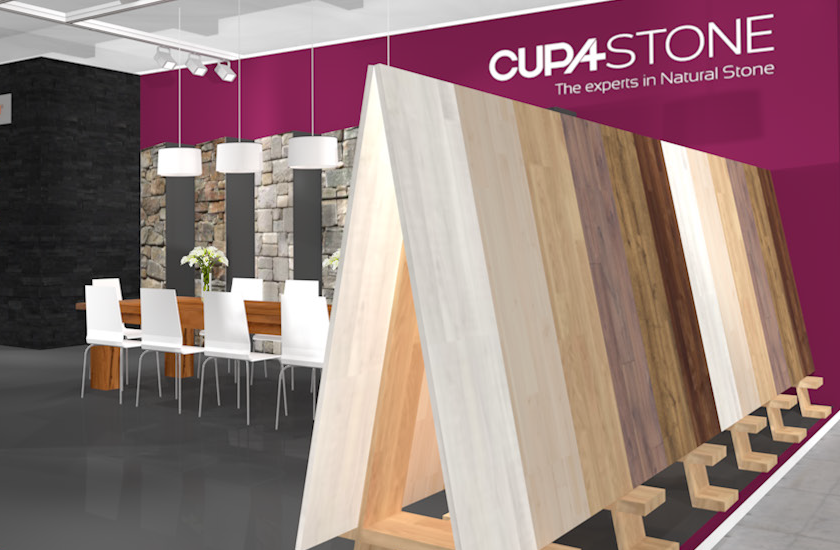 Laminam is a surface with high technological and aesthetic level that offers exceptional performance in all areas of solid applications: building construction, furniture and interior design. This type of ceramic slabs is ideal for use as outer covering, applied on ventilated facade systems and in the redevelopment of buildings, with significant results as regards energy saving. Laminam can be used for covering walls and floors in residential and public places, as a customised horizontal surface for worktops for kitchen and bathroom cabinets, counters in public places, outdoor tables, and as a vertical surface for doors and partition walls.
SWISSBAU FOCUS: THE CONSTRUCTION INDUSTRY
CUPA STONE will show at stand L92 located in Hall 2.1 a selection of natural stone products such as STONEPANEL™ or CUPACLAD® that may help you out with your projects. The exclusive STONEPANEL™, the only premounted stone panels certified for exterior installation thanks to its patented anchor system will be also exhibited at CUPA STONE booth L92. Our natural stone panels has been certified by the most prestigious organizations, passing resistance and durability tests.
During the five days of the fair, visitors will have the opportunity to acquire a comprehensive overview of the market and familiarise themselves with a large number of new products and services. The dialogue between exhibitors, associations, institutions and visitors promotes the exchange of knowledge and fosters networking. This similarly holds true of Swissbau Focus, with its 60 or so events dedicated to the following subjects: initial and further training, spatial development, the construction industry, the energy U-turn, architecture and planning, construction systems and materials, interior design, use and maintenance, and building services engineering.
For further information, visit CUPA STONE Swiss website.