10 types of natural stone finishes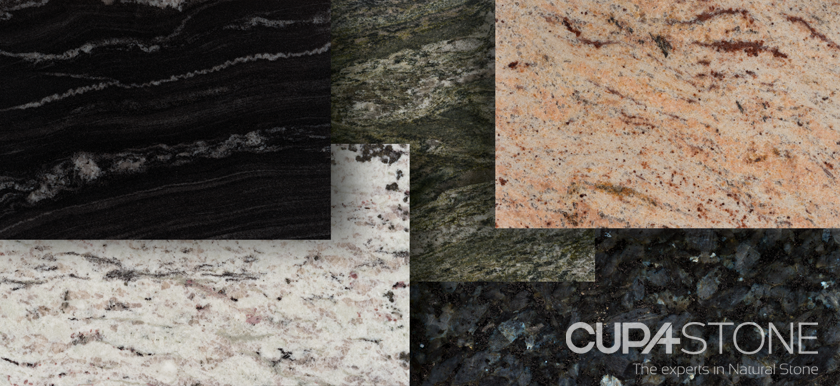 The surface of natural stone may be finished in a wide variety of ways. It is important to choose natural stone finishes suitable for an intended use. Using different techniques and mechanical processes, natural stone can be adapted to interior and exterior applications. These are the most popular stone finishes:
NATURAL
The natural finish is basically the absence of treatment. The stone is sold as extracted from the quarry, once cut into the desired format. The final look depends entirely on the characteristics of the stone and its exploitation. This finish is appropriated for cladding and cobblestones.
POLISHED
Stones are polished by repeated application of abrasive treatments. This technique produces a shiny surface, with almost zero porosity, while improving resistance. Polished finish highlights the color and properties of the natural stone. It is commonly used as interior wall and floor dressing, as well as bench tops and in kitchen countertops. It is not recommended for outdoor paving, since it reduces slip resistance.
AGED
This procedure is characterized by the use of constant vibration on the stone surface to simulate aging. Although different methods are used to achieve this finish, all generate soft surfaces.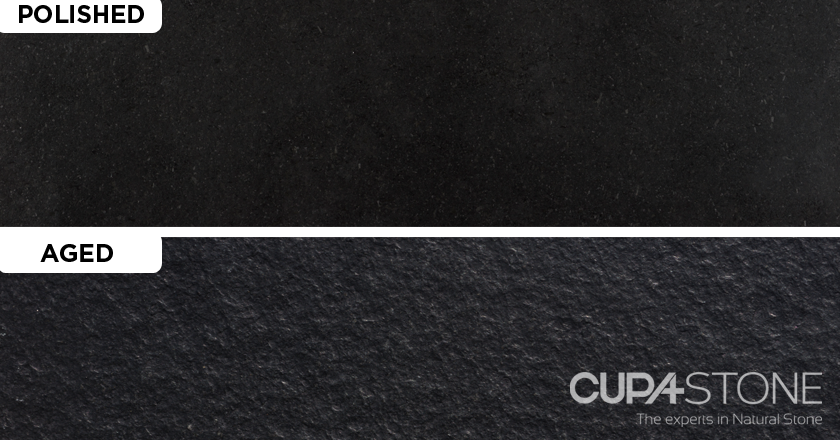 TUMBLED
This is an aging process similar to the one applied to achieve an antique finish. In this case, natural stone is introduced in a vibrating drum-like machine with smaller, more resistant stones that wear the tile completely. Tumbled finish simulates aging and generates soft surfaces and edges.
BUSH HAMMERED
This finish is created by hitting the material, manually or mechanically, with a masonry tool called a bush hammer. Bush hammered generates uniformly distributed craters of different sizes over the surface of natural stone. The surface becomes non-slip, ideal for high traffic external areas.
SANDBLASTED
This is similar to the bush-hammered finish. This finis is achieved by repeatedly blasting silica sand against the material through an air gun. Sanblasted finish generates very small craters that highlight the color of the stone.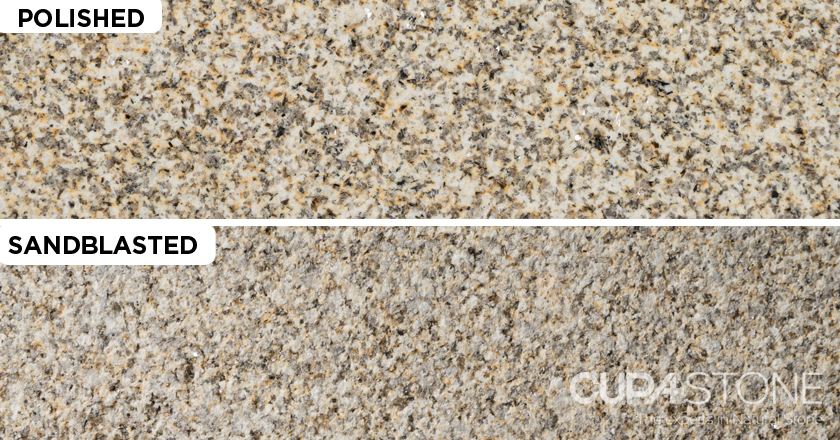 MUSHROOM
This finish is made with traditional masonry tools, chipping the stone with controlled blows. Mushroom finish gives the stone a distinctive rustic appearance, with relief and irregularities.
LEATHER
A leather finish is obtained by a process of brushing the slab with a range of brushes. The result is a slightly undulating surface, very soft, warm and smooth to the touch. Only a few materials are sourced with this finish such as granite.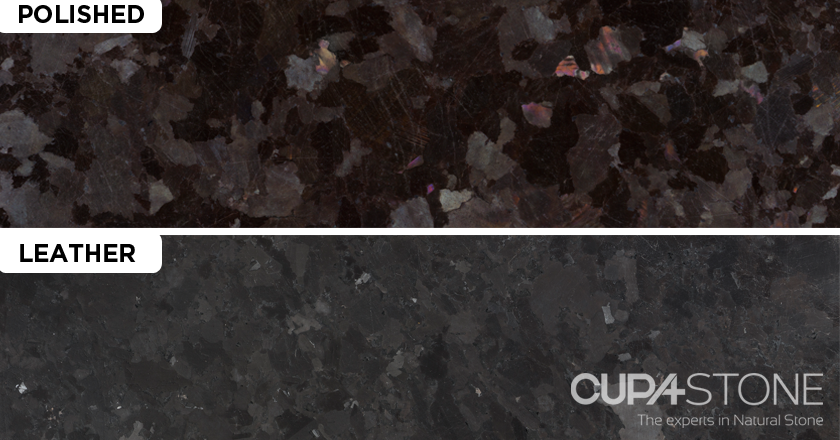 FLAMED
This finish is achieved by exposing the surface of the stone directly to a high temperature flame. Flamed finish generates a thin roughness and protects the material for outdoor installation.
SAWN
This finish is created by "sawing" the stone with diamond disc teeth. It produces a somewhat rough and irregular surface with small furrows and undulations. Sawn finish makes the stone lighter and gives it a matte tone. Sawn finish is available for external paving, steps, pathways, driveways and patios.
For further information, visit CUPA STONE website.