CUPA STONE launches the new STONETACK™ website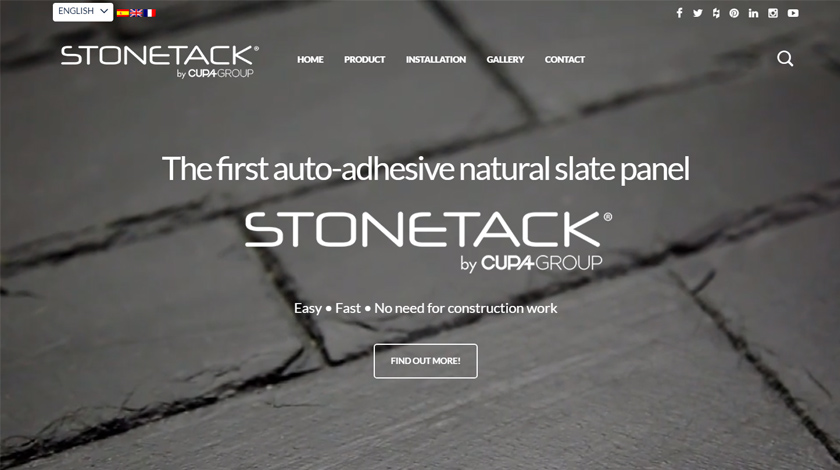 We are pleased to be launching the new STONETACK™ website, adapted to the latest trends in design, usability and adaptability to mobile devices. The first page dedicated to a CUPA STONE product is aimed at professionals as well as the general public.
Our website includes all information about how to install the first-ever self-adhesive natural slate panel for decorating interiors. This innovative DIY (Do It Yourself) product is a revolution in interior wall cladding.
A CLEAN, SIMPLE AND INTUITIVE WEB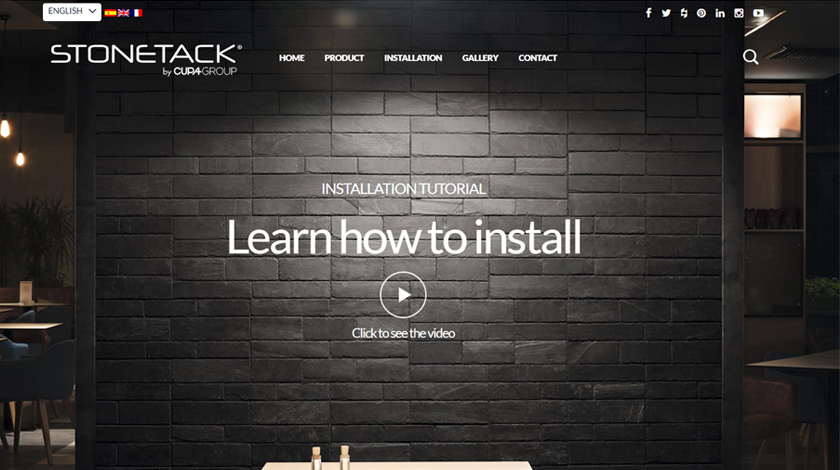 Inspired by the latest web design trends, the new STONETACK™ website website is presented in a clean, simple and intuitive format organized in four sections: Product, Installation, Gallery and Contact. This structure emphasizes the quick and easy installation of the panels as well as their complete versatility and tasteful elegance. The white design combined with the colors of STONETACK™ represents the key concepts of the product: ecological, versatile and innovative.

The new STONETACK™ website is practical and accesible thanks to an easy navigation system and simple access to the main installation steps of the decorative panels. At a glance, it is possible to know which parts the product is made of, the video on how STONETACK® is installed in just three steps, and inspiration images of applications in the interior decoration of both home spaces (living rooms, bedrooms or reading corners for example) as well as businesses (shops, offices, restaurants, etc.). In addition, it is possible to access the STONETACK™ installation manual with all the details to place the product.
RESPONSIVE DESIGN ORIENTED TO USERS

The new website has a completely "responsive" design, that is, adapted for its correct visualization and a better user experience from all types of mobile devices (from desktop to mobile computers and tablets). Thanks to all the information collected on the web, both a private user and an architect or interior designer can install STONETACK™ in an easy, quick and without construction work in any type of interior decoration projects.
STONETACK™ is the first-ever self-adhesive natural slate panel for decorating interior walls. This product is 100% eco-friendly, easy to install in three quick steps, and ideal for use in homes and businesses. Truly a market innovation, the panels are available in boxes of 6 units which allow you to cover a surface of approximately 1 square meter. Incredibly versatile, STONETACK™ can be installed on any type of interior wall, and goes perfectly with natural materials such as wood.
For more information, check the new STONETACK™ website.